Want to study with us?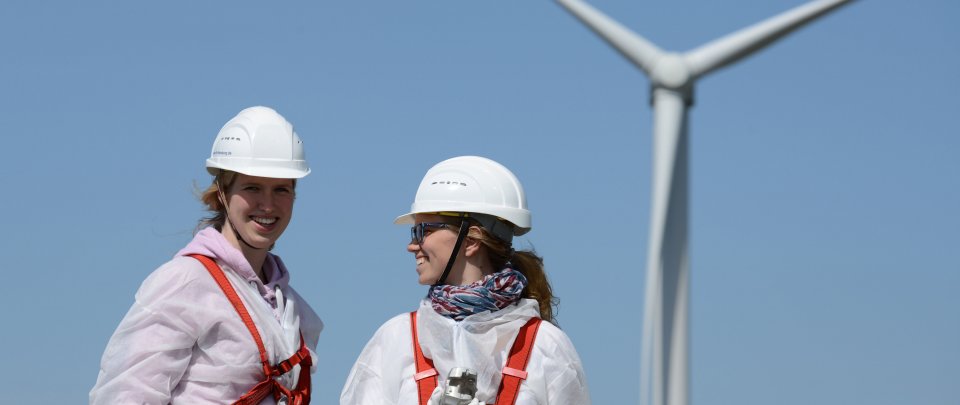 Programme title
Energy Engineering
Starts in
summer semester
Degree
Bachelor of Engineering
Restricted admission
no specific restrictions
You're a student with us or want to know more?
Energy supply and demand, renewable, sustainable and green energy – thinking and talking about energy has become part of our daily routine. This programme makes that routine an exciting field of studies. And if our classes and research projects are not exciting enough for you, maybe climbing up our very own wind turbine is.
What is it about?
Using wind energy efficiently from an engineering perspective is one thing, using it just as efficiently from an economic perspective is another – in this programme you will learn to do both. Depending on what interests you most, what your strengths and career plans are, this programme offers you the chance to focus on engineering or on business. The three majors you can choose from are: Electrical Energy Systems Engineering, Energy and Environmental Management and Renewable Energy Engineering.
What will I learn? – Course content and structure
The bachelor's degree programme Energy Engineering is designed to take seven semesters at the end of which you will be awarded the degree Bachelor of Engineering (B.Eng.).
In the first three semesters of your studies you will acquire a solid foundation of technical knowledge. This includes maths and sciences as well as a broad range of engineering basics and an introduction to economics. But we will also teach you project management and English as these skills will be valuable for your career, too.
In these first three semesters you will learn alongside other students who care about energy as a topic as much as you do. You will then go on to specialise in one of our majors from the second half of the third semester. You can choose between:
Electrical Energy Systems Engineering,

Energy and Environmental Management,

Renewable Energy Engineering.
If you want to pursue a career in Electrical Engineering within the energy industry, the major of your choice is Electrical Energy Systems Engineering. Here you will get the chance to specialise in the field of electrical energy systems and their components. Your curriculum will include modules such as Modelling and Simulation or the automation of systems and industrial processes in energy engineering. We will introduce you to all the steps involved in the conversion and distribution of electrical energy – starting from project development and planning up to production and operation. Prepared in this way, you will be able to tackle and solve all the problems that occur in this field on a sound basis both in engineering and methodically.
If engineering is your passion but you want to focus on the large picture rather than on details and individual components, the major in Renewable Energy Engineering is made for you. You will study the theoretical foundation of mechanical engineering and electrical engineering and you will apply it, too. Gathering experience in project work will be a crucial part of your studies. This will enable you to find solutions for current challenges in energy supply that are not only environmentally sound but efficient and sustainable at the same time. You also get to choose from a broad range of Electives covering all aspects of renewable energy engineering from solar to wind.
If you are more interested in the business than the engineering aspects, Energy and Environmental Management is the major for you. This will allow you to extend your knowledge on the fields of Energy Economics, Energy and Environmental Management and Energy and Environmental Engineering. You will be fluent in the technical and academic terms of engineering as well as those of business and economics. You will also be able to apply different methods from economics and business administration as well as from environmental engineering and energy economics.
Starting in the fourth semester of your studies your curriculum will contain Electives in addition to your major modules. Which electives you can choose from exactly depends on your major. So, you can make your studies fit your interests and strengths. You could choose "Simulation of Electrical Systems" from the group of Electrical Energy Engineering modules, or "Photovoltaics and Fuel Cells" from the group of Renewable Energy Engineering modules or "Environmental Protection and Management" from the Environmental Management and Engineering modules. You can find an overview of the curricula for the three majors below.
In the elective modules you will learn alongside students from the other majors. Because applying your specialist knowledge across fields and working with experts from other areas will be an important part of your future career and enable you to find answers to questions regarding electrical engineering, business and environmental topics.
If the major of your choice is Energy and Environmental Management, you will spend the sixth semester of your studies abroad. But of course you are also welcome to explore other countries and cultures if you chose one of the other two majors. You can find a list of our partner universities here.
Your seventh semester is designated to a three-month internship and your bachelor's thesis. Once you have completed those successfully, we will award you with a Bachelor of Engineering (B.Eng.) degree.
Degree programme leaflets
Äquivalenzlisten für den Wechsel aus RET, EUM oder EES
Curriculum
What can I do with it? – Career prospects
Once you have your degree, you also have the choice: Would you like to pursue your studies further and enrol in a master's degree programme? Then you might be interested in our Wind Engineering programme or a master's degree in Energy and Environmental Management which we offer in cooperation with Europa-Universität Flensburg.
Or you can start your career right away. To make that decision a little easier for you we asked graduates of our bachelor's degree programmes Electrical Energy Systems Engineering, Energy and Environmental Management and Renewable Energy Engineering. (These three programmes were merged into the Energy Engineering programme.) Half of them knew their first employer from their studies, more than 90% of them had signed their first employment contract within three months after graduating. They work in the energy sector, in environmental engineering and consulting for energy and climate policy. They also work in IT, in mechanical engineering and the automotive industry and in transport. They work for universities, public authorities, consulting engineers and architects.
They have job titles such as project engineer and electrical engineer, consultant for energy and international climate policy, they are certification specialists, district manager for control and safety engineering and heads of department. Some of them work as project supervisors or construction designers, others are research assistants. They are responsible for quality management and for product development and work in the areas of software development and project management in the energy sector. They develop, coordinate and lead projects, research and teach, analyse and assess electrical systems.
How do I apply?
If what you have rad so far matches your strengths, interests and your idea of what you would like to study and do - in short, if this sounds like the perfect degree programme for you, you should apply.
Depending on whether you have acquired your university entrance qualification in Germany or abroad, the application process varies. If you went to school outside Germany, please apply via uni-assist. If your university entrance qualification was issued by a German school, please apply via our Online Service Tool.