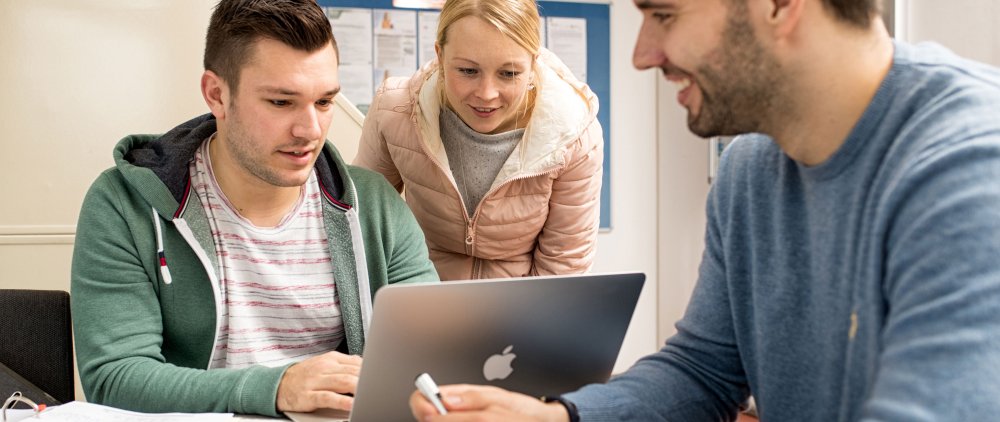 Once you've found the degree programme that matches oyur strengths, interests and the career you want to pursue, you have to apply for a place on it. How this works depends on whether you want to enrol as a full degree student or as an exchange student and on whether your school leaving certificate was issued at a German school or not.
Für unsere Studiengänge gelten folgende Bewerbungszeiträume:
Wintersemester

zulassungsbeschränkte Studienangebote: 15. Mai - 15. Juli d. J.
zulassungsfreie Studienangebote: 15. Mai - 31. August d. J.                                                           

Sommersemester

zulassungsbeschränkte Studienangebote: 1. Dezember - 15. Januar d. J.
zulassungsfreie Studienangebote: 1. Dezember - 28. Februar d. J.
Welche Studiengänge im Winter- oder im Sommersemester beginnen, findest du auf den jeweiligen Studiengangsseiten.
Wir empfehlen dir, dich so frühzeitig es geht, zu bewerben und einschreiben zu lassen, um gut ins Studium zu starten und um Vorkursangebote, die TOP-Wochen und anderes mehr wahrnehmen zu können.
Falls du dich nach dem Bewerbungsschluss noch für ein Studium interessierst, wende dich bitte direkt an uns.
Bei unseren zulassungsbeschränkten Studiengängen entscheidet die Abitur-Abschlussnote, ob du einen Studienplatz für einen bestimmten Studiengang erhältst. Falls du eine duale Ausbildung abgeschlossen hast oder du nach dem Bachelorabschluss qualifiziert berufstätig warst, verbessert dies deine Verfahrensnote. Der genaue Grenzwert (NC), bis zu dem die Bewerber*innen zugelassen werden, ist je nach Studiengang unterschiedlich.
Für zulassungsfreie Studiengänge kannst du dich ohne Zulassungsverfahren sofort einschreiben. Die Hochschule benötigt hierfür von dir neben den 3 Erklärungsformblättern einen Nachweis deiner Hochschulzugangsberechtigung, den Zahlungsnachweis der Semester- sowie Einschreibgebühr und einen elektronischen Krankenversicherungsnachweis.
Wie geht's weiter, wenn der Wunschstudienplatz doch nicht dabei ist?
Wer in zulassungsbeschränkten Studiengängen abgelehnt wird, kann möglicherweise im Nachrückverfahren noch einen Studienplatz bekommen.