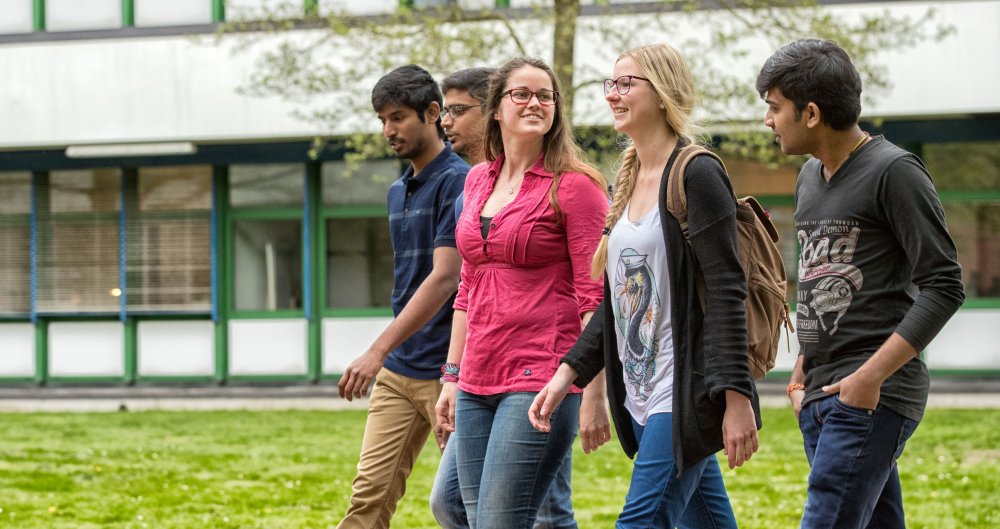 Flensburg is more than just a great place to study, it is a great place to live. If you want to study and live in an innovative, vibrant environment right by the sea, look no further. If after a day of lectures, classes and revision you need a change of scenery, you could of course enjoy FUAS' green campus or stroll along the picturesque harbour in the centre of town or you could take changing the scenery to the next level and go sailing or wind surfing.
Here are 10 good reasons to study at FUAS:
1. Maritime tradition
Flensburg is maritime – this goes for the city with its harbour set against the beautiful skyline as well as for FUAS with its long tradition of maritime study programmes.
2. Partner universities all over the world
Your decision for Flensburg will also be a decision for our extensive network of partner universities from all over the world. We welcome students from around the world every semester and our students can broaden their horizons through exchange programmes and cooperation projects with an extensive international network. In fact, we have partner universities on each of the five continents.
3. Ultramodern facilities
Our Centre for Maritime Studies is home to the largest ship bridge simulator facility in Northern Europe, our Media Informatics programme includes full dome modules and our labs are also state of the art.
4. R&D activities
FUAS has been teaming up with partners from industry and other universities for years, this way we can provide our students with valuable experience and they can use their theses as a start to a successful career. Also, all of our professors have spent at least several years working in industry and can now pass on their valuable experience to our students.
5. Serving future markets
Our innovative study programmes prepare our students for successful careers in future growth markets such as wind engineering, eHealth and biotechnology.
6. Student-professor ratio
With a ratio of less than 50 students per professor you will be more than just a face in the crowd. Just for comparison: The average student-professor ratio at German universities is 64. If we include all our teaching staff, the ratio even goes down to 42.
7. Shared campus – synergies
We share our campus and some of our facilities with the Europa-Universität Flensburg. For our students this means synergies in teaching, an extensive range of books offered in the shared library and a large variety and number of courses offered by the sports centre.
8. Partners in a cross-border network
We are part of a closely knit regional network of universities on both sides of the German-Danish border. Our students get to enjoy joint study programmes and projects as part of our knowledge and technology transfer.
9. Affordable living costs
Flensburg is a great place to live and yet rents are below the German average.
10. Student life
Being a student shouldn't be about studying only. Student life is also there to make friendships that will last a lifetime and enjoy life. It is easy for FUAS students to have the right work-life balance thanks to regular events on and off campus. This means campus cinema as well as parties and the legendary annual Kohl and Pinkel tour (you'll have to come here to experience it).
Long story short: If you want to enjoy life on and off campus, by the sea and at sea, Flensburg is the place for you.