Want to study with us?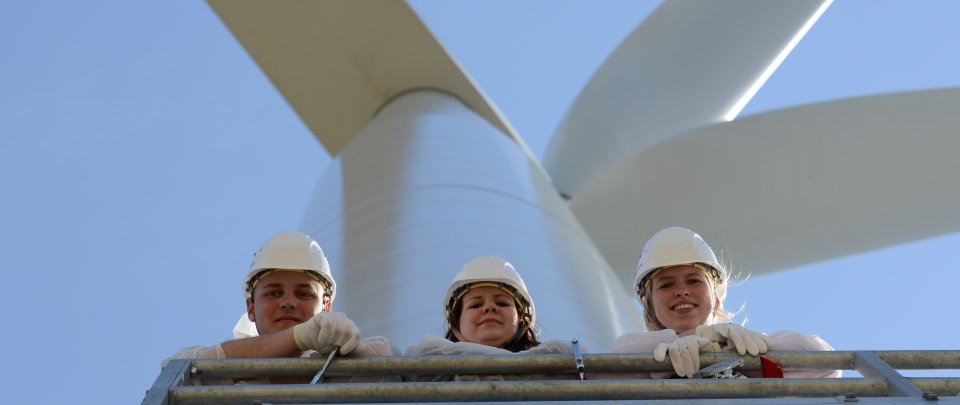 Programme title
Wind Engineering
Starts in
summer semester
Restricted admission
yes, minimum grade or similar
You're a student with us or want to know more?
Our very own wind turbine will show you the way to our campus and the experts on anything wind energy located here even from far away. Students of this master's degree programme won an international small wind turbine contest three times in a row. If you like it windy, this is your programme.
What is it about?
Wind is one of the renewable energy sources with the highest growth potential. Our location makes FUAS the perfect place to study wind engineering – with more than 8,000 people employed in the wind industry Schleswig-Holstein holds a leading position in this sector in Germany and internationally. In the future the expansion of offshore plants will cause the amount of power generated from wind energy to increase even further.
The master's degree programme Wind Engineering is designed to meet the demands of the wind industry and prepare our graduates for a successful career. This includes training interdisciplinary generalists with specialised skills in either electrical, mechanical or civil engineering. But above all we want our students to be able to understand and handle both, classic and new wind turbines and wind power plants in a system oriented manner. Our graduates have acquired skills in the design, construction and operation of these systems and their components.
What will I learn? – Course content and structure
The master's degree course is designed to take four semesters. The course is taught entirely in English, this includes lectures, laboratory training, project work and examinations.
In the first semester your curriculum will be made up of mandatory and elective classes covering subjects from the conditions in the global wind industry to several aspects of engineering as well as academic and technical writing and language classes in German and English.
In the second semester you will take classes on wind turbine aerodynamics, tower and rotor structures and electrical engineering among others. In short: You will further extend your engineering knowledge in combination with aspects specific to wind engineering.
In the third semester it is up to you to choose a major. The curriculum will vary depending on which of the three options you decide for:
If you choose Mechanical Engineering as your major, you will focus on the dynamics of structures, structural strengths and materials. If your major is Electrical Engineering, you will take classes in electrical machines and grid integration for example. If you want to major in Civil Engineering your curriculum will contain tower design and sub structure design among others.
But no matter what your major will be, you will also take part in a project module developing a wind turbine and have the choice between a number of classes covering topics such as advanced wind farm planning, offshore wind energy or load simulation.
After successfully completing all three semesters, the fourth semester of the programme will be dedicated to your master's thesis.
Curriculum
What can I do with it? – Career prospects
As a graduate of this course you will be able to start your career in a variety of fields in Germany and internationally. Your profound knowledge in wind engineering as well as your problem solving and social skills will make you an interesting candidate for a number of jobs in a growing market that will play a major role in the future.
Your future employers could be wind turbine manufacturers or suppliers, wind farm operators or government institutions. Local authorities could benefit from your qualifications as well as insurance companies or research and development institutes.
How do I apply?
If you like what you read and think that this programme matches your interests and strengths, i.e. if this sounds like just the right degree programme for you, all you need to do now is apply.
If you acquired your bachelor's degree outside Germany, you will need to apply via uni-assist - here is how. If you have a German bachelor's or Diplom degree, please apply via our online application tool.
Please note that admission to the master's degree programme is regulated by the official Study and Examination Regulations. You can apply for our master's programme in Wind Engineering:
if you have graduated from a bachelor's or Diplom degree programme in Mechanical, Electrical Engineering, Electrical Energy Systems Engineering or Renewable Energy Engineering with a final grade of at least "good" (i.e. "gut" in the German system), or
if your final grade is below "good", a minimum of two favourable letters of reference from professors of the university/universities you have previously attended
and
if your English skills meet our requirements
If you graduated from a different study programme than those mentioned above, you may be admitted to the master's degree programme depending on the decision of the programme admission board. The board may require you to participate in additional classes apart from the regular curriculum.
The programme starts each winter and each summer semester. (Make sure to send your application in time, preferrably keeping to the first deadline of 15 May (for the winter semester) or 15 November (for the summer semester). You can find more details on our site explaing the application via uni-assist.) If you have graduated from a bachelor's degree programme worth 180 CP, you can be admitted to the 1st  semester of the programme  which starts in the winter semester of each year. To be admitted to the second semester of the programme (i.e. the summer semester) you will need a bachelor's degree worth 210 CP.
If you are in doubt on your eligibility for the programme or want to know more about admission regulations, read the programme's Study and Examination Regulations or contact our Course Guidance.