Want to study with us?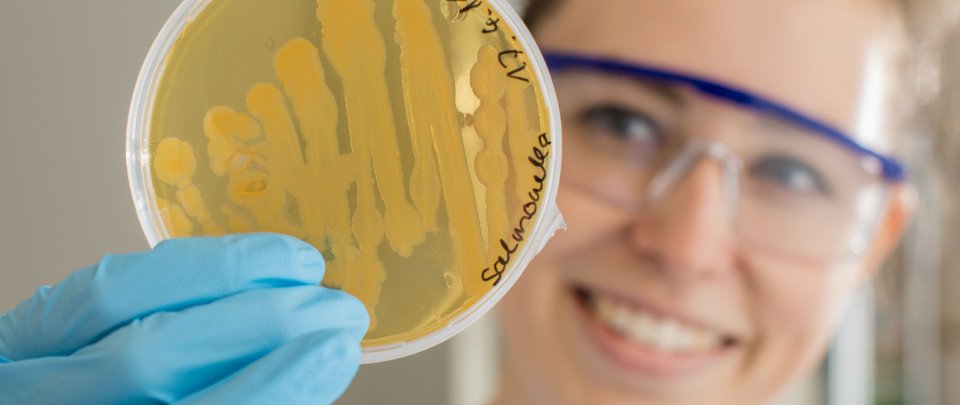 Programme title
Bio, Food and Process Technology
Starts in
winter semester
Degree
Bachelor of Science
Restricted admission
yes, minimum grade or similar
You're a student with us or want to know more?
What do highly effective medicines for the treatment of leukaemia, drinking water, paper, cooking oil, fuel, energy from renewable sources, yogurt cultures, deep frozen convenient foods and clean exhaust air and waste water have in common? Engineers specialised in biotechnology, food technology and process engineering were involved in the development of all of them. And those are exactly the three majors you can decide between in the course of your studies.
What is it about?
Fuel, plastics, food, health, environmental protection, drugs, detection methods for diagnostics and food safety, sustainable development of complex technological processes and everyday products: This is how big we think in biotechnology, food technology and process engineering. In biotechnology we develop processes for diagnostics and therapeutics for example. Progress made in food technology ensures our supply with high quality foods. Process engineering makes sure that production processes are designed to preserve resources and the environment as best as possible – independently of the product.
Our state-of-the-art laboratories offer you plenty of space and opportunity to apply what you learned in the lectures. Try out how processes actually work, hands on. There is always something going on in our labs: Water is purified (yes, you can make beer from water from the Baltic Sea – and earn awards for it!), yeast cells reproduce in a bioreactor, biofuel is made of oilseed rape, we develop innovative food and our students count fluorescent algae under microscopes – you could be right in the middle of this.
What will I learn? – Course content and structure
The bachelor's degree programme Bio, Food and Process Technology is made up of seven semesters. They are divided into a basic part, a major, general skills modules and time for an internship and your bachelor's thesis. At the end of your studies you will be admitted as a Bachelor of Science (B.Sc.). At the beginning of your studies we will show you the industries you will be qualified for, you'll be able to gather first experience in the lab and get to know the contents and objectives of the degree programme in projects – all this is part of the introductory module.
In the first two semesters of your studies you will work on a solid basis in maths and sciences, no matter which of the majors you will decide for later on. This will be the cornerstone of your career as an engineer. This basic part of your studies includes lectures and time in the lab where you'll explore subjects such as biology, maths, chemistry, physics, mechanics and computer science.
After you have completed the second semester of your studies, you choose one of the following majors:
Bio and Food Technology

Process Engineering
Majors
Bio and Food Technology
Methods from bio and food technology are used to develop and produce health and nutrition-related products, they also play a role in environmental protection.  While in biotechnology we develop new processes for diagnostics and therapeutics for example, progress made in food technology is applied in the production and analytics of food. This makes sure that our food is of high quality and available when we want and need it.
If you decide for this major, you will learn to understand food technology processes from genetics to the final product. This means your curriculum will include modules like biochemistry, molecular biology, bio and food analytics as well as technological subjects like bio process engineering, product technology of both plant and animal-based food. This package is completed by legal basics, packaging technology and quality management.
Process Engineering
In Process Engineering we look at the processes that turn raw materials into materials with specific characteristics: The process engineering major will enable you to apply the latest research in the laboratory and turn it into engineering processes. You will learn to analyse industrial processes and improve them. The methods and simulation models you will be introduced to here, will help you to understand complex processes and design commercial-scale plants. If you choose this major we will introduce you to the building blocks that form process engineering – these blocks are mechanical, biological, chemical and thermic processes and their parts. The knowledge you acquire here will be useful for your future career in project planning and process management, whether you work in production, industrial plants or an engineering office. Your curriculum will include physical chemistry, electrical engineering, measurement technology and instrumental chemistry and mechanical, thermal and chemical process engineering. In the fifth semester of your studies you will work on a term paper. But before you start to research and write, we will equip you with the necessary skills to do so. Writing reports, project and time management and working in a team are also skills that you need to acquire.
To be successful on your career path, however, you will need more than subject-specific knowledge. That's why the curriculum for both majors also includes non-technical subjects such as business administration and legal aspects and a number of electives.
No matter which major you decide for: In the seventh semester of your studies you will complete a three-month internship so that you can apply what you learned in the real world. Following this you will write your bachelor's thesis and complete a colloquium. At the end of your studies you will be a Bachelor of Science (B.Sc.).
Degree programme leaflets
Curriculum
What can I do with it? – Career prospects
Your degree qualifies you for careers in a number of industry sectors: plant engineering, the food industry, the chemical sector and the primary processing industry. The cosmetics and the pharmaceutical sector, the environment and recycling industry will also have numerous jobs that match your profile.
Depending on your strengths and interests, you can pursue a career in product development, in quality assurance or management, in production and optimisation or in technical support. You will also be a well-suited candidate for positions in engineering, distribution and management.
The job market prospects for the areas this degree programme qualifies you for are promising: Several studies show a significant increase in positions advertised by companies active in the field of biotechnology. The number of people with a university degree working in food technology is on the rise. As process engineering is relevant for all companies that process one material into another, your job perspectives in this field are as diverse as they are secure.
It's up to you: You can conquer the job market right away or top your bachelor's degree up with a master's; you'd be in good company. Here at Flensburg University of Applied Sciences the master's degree programme Applied Bio and Food Sciences or our Systems Engineering master's might interest you.
How do I apply?
If you like what you read and think that this programme matches your interests and strengths, i.e. if this sounds like just the right degree programme for you, all you need to do now is apply.
If you acquired your university entrance qualification outside Germany, you will need to apply via uni-assist - here is how. If you have a German university entrance qualification, please apply via our online application tool.