Want to study with us?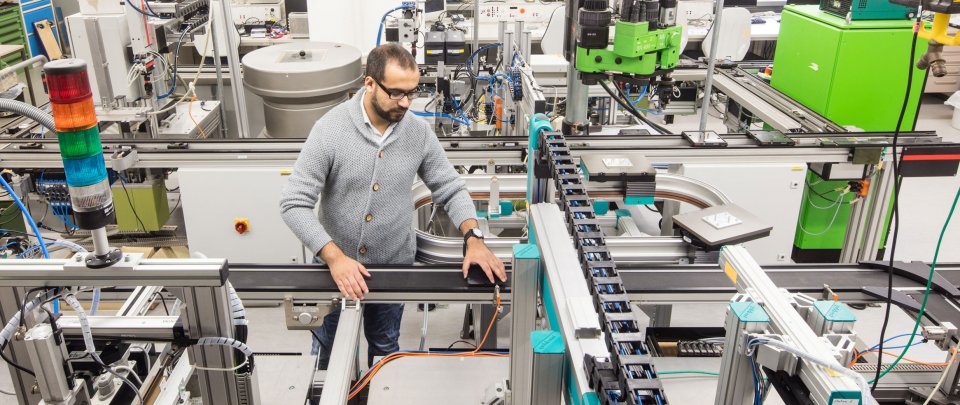 Programme title
Mechanical Engineering
Major
General and Constructive Mechanical Engineering
Starts in
winter semester
Degree
Bachelor of Engineering
Restricted admission
no specific restrictions
Accreditation
durch die ASIIN (Re-Akkreditierung läuft)
You're a student with us or want to know more?
What would Germany – and the world – be without mechanical engineering? This discipline's success story is as long as it is diverse and there is no end in sight. Read for yourself.
What is it about?
Mechanical engineering is part of numerous products and processes, and a lot of the time you won't have the slightest idea. Sewing needles and cardboard boxes, cars and space stations – they all are brought to you by mechanical engineering.
Whether you need to calculate a specific motion sequence or put together highly complex installations – as a mechanical engineer this will not be a problem for you. You optimize processes, design large and small products and you turn them into reality, too. Usually for all of this you will be part of a team.
If you are interested in the hows and whys of engineering, if you like to be creative, come up with innovative solutions and realize them in a team, you are the perfect fit for this degree programme. Our teaching staff has a track record of industrial experience and they are here to share their knowledge and equip you for a successful career in industry.
FUAS also is home to the IDEENREICH fablab which is open to all students and their ideas. Meet other creative minds and let your ideas become reality next to your studies.
And to give you the option of working as an engineer in industry or in the training young engineers to-be, we are cooperating with our neighbour on campus, the Europa-Universität Flensburg (EUF), and offer you a focus module in "vocational training". The credit points you acquire in this focus area of your undergraduate studies will be recognised if you decide to study for the matching master's degree at EUF which will in turn reduce the time you need to study for a master's degree by half a year.
What will I learn? – Course content and structure
The degree programme is designed to make you a Bachelor of Engineering (B.Eng.) in seven semesters. You have until your fourth semester of studies to complete a six week basic practical training in which you gain experience in the machining and assembly of materials or electrical installations.
Throughout your studies we will put a particular focus on methods and processes. During your studies we won't only explain to you how particular components work together, you will try it out yourself in laboratories and projects. Of course theory will be part of your studies, but we'll make sure that you'll apply the theory you learn in lectures in labs and practical exercises. Projects are a definite part of your curriculum: Here you'll have the chance to solve engineering problems in teams with other engineers-to-be. You can also get involved in a number of projects outside your studies and apply what you have learned right there (– the pedal boat club, the solar boat club, the sailing club, a club constructing a car driven by opposing wind, an e-car club and the PLC club, just to name a few of them). Of course having a good time in a group with other students is an important aspect, too.
The core areas of your studies will be:
fundamental basics of maths and natural sciences

such as maths, physics and mechanics,

various calculation, simulation, construction and display methods and techniques, you will learn to use the most important methods and software in these fields,
making yourself familiar with a number of widely used machines, installations and devices and a number of measuring and testing methods for their operation.

comprehensive projects

from planning to the presentation of the results in the higher semesters of your studies
But we want you to gain more than just technical knowledge. We want you to be prepared for all the tasks you will be faced with in your future career. So, to enable you to take on a leading role in international project groups rather than just being a mere member, English and presentation skills are part of your studies as well as legal and business administration basics.
After you have completed six semesters of your studies, you will get the chance to plan processes and products, monitor and run machines and systems in a three-month internship. Afterwards you will write your bachelor's thesis – choose a problem and prove that you can find solutions that don't only look good on paper.
Your Bachelor of Engineering degree gives you the right to call yourself an engineer.
Degree programme leaflets
Curriculum
What can I do with it? – Career prospects
What would you prefer? Do you want to start your career right away? Or would you rather continue your studies for a master's degree? - Your bachelor's degree gives you the choice.
If you want to enrol for a master's degree programme, Systems Engineering or Wind Engineering here at FUAS may be the right thing for you.
If you want to start your career and find a job, your bachelor's degree in Mechanical Engineering will open doors for you: We regularly conduct surveys among our mechanical engineering graduates and two thirds of them told us they had found their first job within three months after graduating. As 95% of our students write their bachelor's thesis in cooperation with a partner from industry, large part of our graduates already knew their first employer from their studies or their bachelor's thesis.
Our alumni work in a variety of jobs, they include: development engineer, CAD engineer and project engineer. They are in charge of the operation of wind turbines, work in projects in plant and systems engineering and they carry out tests and measurements. They construct, lead projects from the early design phase to series production, they plan tests and implement them. The job descriptions of our graduates also include calculation, research and assessment. The industries they work in mostly are automotive and mechanical engineering but also in other fields such as energy and water management and transportation.
How do I apply?
If what you have rad so far matches your strengths, interests and your idea of what you would like to study and do – in short, if this sounds like the perfect degree programme for you, you should apply.
Depending on whether you have acquired your university entrance qualification in Germany or abroad, the application process varies. If you went to school outside Germany, please apply via uni-assist. If your university entrance qualification was issued by a German school, please apply via our Online Service Tool.