Want to study with us?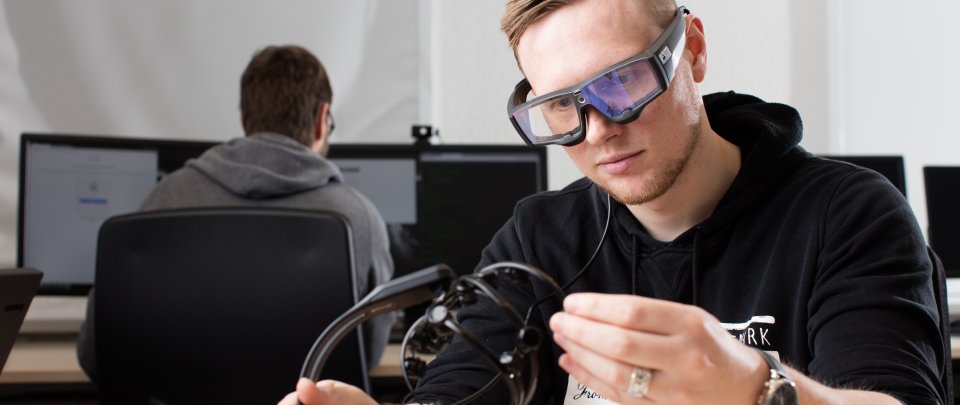 Programme title
Applied Computer Science
Starts in
winter semester
Degree
Bachelor of Science
Restricted admission
no specific restrictions
You're a student with us or want to know more?
Whether we're shopping, driving a car or making a call – computers are a part of our everyday life. Almost all technical appliances include microcomputers. Mobile devices allow us to communicate anytime, anywhere, and the internet connects the entire world. These topics will continue to be relevant in the future and you can create more of these trends by studying Applied Computer Science.
What is it about?
You're driven by your passion for what you do.  You want to do things better than they have been done before.  You don't want to play a computer game if you can develop it instead.  You don't want to simply use software, you want to create it.  Software development is one of the most exciting things there are in technology – it is the software that makes the computer come alive.
In our bachelor's degree programme Applied Computer Science you will learn to develop software and all the facets this includes – we put a special focus on web and mobile development for example. And you will learn how to design software so it is safe and user friendly at the same time.  Software, web, mobile, security, usability – those are the key words of this programme.
What will I learn? – Course content and structure
The programme is designed to take seven semesters (i.e. three and a half years) at the end of which you will be awarded the title Bachelor of Science (B.Sc.).  You will spend the first six semesters studying on campus at Flensburg University of Applied Sciences.
In the course of your studies we will make you an expert in software development. You will learn everything there is to know from the basics of object-oriented programming to advanced methods of software engineering.  You will create web applications and develop apps for mobile devices.  You will learn everything about computer networks – from their structure to their operation and security aspects.  And because we want what you develop to be usable in the end, usability aspects will play an important role throughout your studies.
On top of that you will acquire a solid knowledge base in computer science in general, including maths, algorithms and databases as well as theoretical computer science.
We want you to be able to apply what you have learned in your future career. That's why your studies will also include classes that may not have anything to do with computer science at first sight. You will learn about project management and presentation skills and improve your skills in English and business administration.
Applying what you learn will be an important part of your studies right from the start.  Almost all of your lectures will include tutorials and labs in which you can apply what you just learned and turn it into practice.  The sixth semester of your studies will largely be dedicated to a project that you will work on in a small group. The topic you choose to work on is entirely up to you.
The seventh semester of your studies consists of a three-month internship and time for you to write your bachelor's thesis.
For more information on the broad range of topics you will explore during your studies, have a look at the programme's curriculum, including detailed descriptions of each module (in German).
Degree programme leaflets
Curriculum
What can I do with it? – Career prospects
With your bachelor's degree you can go on to study for a master's degree – you could stay here at FUAS and study Applied Computer Science at post-graduate level for example. Or you can conquer the job market. 
We regularly ask our graduates what they went on to do with their degree. We asked them what they work as now and here are some of their answers:  Many of them work as software developers of course, others are network administrators, development engineers and client side developers. Most of our former students work in software and web development or in other fields related to IT.  They conceptualise, realise new ideas and projects and make sure that computers and IT infrastructure are running securely.
More than half of our former students have met their future employer during their studies. And more than 80% of the people we asked had found their first job within three months of their graduation.
How do I apply?
If what you have rad so far matches your strengths, interests and your idea of what you would like to study and do - in short, if this sounds like the perfect degree programme for you, you should apply.
Depending on whether you have acquired your university entrance qualification in Germany or abroad, the application process varies. If you went to school outside Germany, please apply via uni-assist. If your university entrance qualification was issued by a German school, please apply via our Online Service Tool.