Want to study with us?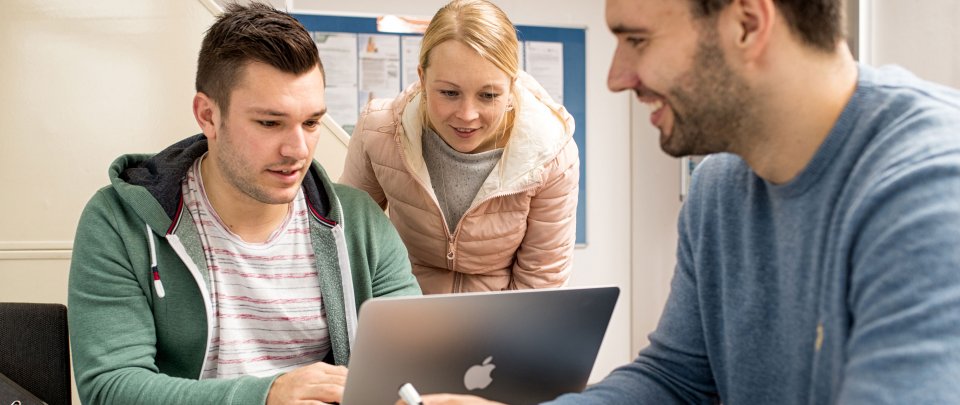 Starts in
summer semester
Restricted admission
no specific restrictions
You're a student with us or want to know more?
The World Health Organisation (WHO) describes eHealth as "the use of information and communication technologies (ICT) for health." The European Commission forecasts the global eHealth market to grow rapidly in the near future; they predict a development from "7.6 to 17.6 billion euros already by 2017." In short: The health market will be one of the crucial pillars for growth in industrial nations for years to come and as a graduate from our eHealth programme you will be an attractive candidate on a growing job market.
What is it about?
At FUAS we have more than 20 years of experience in health related study programmes. We were the first university in Germany to set up an eHealth programme back in 2007. Apart from our pool of specialised IT know-how and technical expertise in the health care industry, the geographical proximity to Scandinavian pioneers in this area make us the best place for your studies in eHealth.
The master's degree programme focuses on the increasing importance of IT applications for the health market and the need for interoperability between the various systems in use. The curriculum combines business informatics, business administration, health economy and medical documentation.
Just to give you one example from our current health care system: In Germany university hospitals use up to 100 different systems – including various lab systems, systems for documentation and imaging – usually none of them are connected to each other making it almost impossible to collect and connect all the data acquired. Your future job could be to solve this problem.
What will I learn? – Course content and structure
The 2-year master's degree programme is divided into four semesters, including a project and your thesis.
In the first and second semester you will gain knowledge on subjects such as health economy, business administration in health care, medical documentation, quality and project management just to name a few. Guest lectures, field trips and other events regularly add to the curriculum.
In the third semester you will work on a more complex project in cooperation with industry partners (former students worked for Siemens, MCS Schleswig-Holstein and the university hospital in Eppendorf amongst others).
The fourth and final semester is designated to your master's thesis.
We are part of an elaborate network of industry partners and universities from all over Europe making it possible to keep the programme's contents up to date at all times and maintain a diverse and interesting curriculum for you.
Degree programme leaflets
Curriculum
What can I do with it? – Career prospects
As an eHealth graduate a rapidly growing market will need you and your skills. You will be able to understand modern health care as a whole – the demands of hospitals, doctor's offices and health insurance providers as well as those of patients. Your ability to combine all of these with the technical possibilities available and create result-oriented projects will make you a valuable employee.
Your future employers may be hospitals as well as health insurance providers, health networks, research institutes or companies in the areas of information and communication systems. You could also decide for a job in consulting or public services.
The programme's representative, Prof. Dr. Roland Trill, is convinced "that more than 80% of our students will start their professional careers immediately after graduation. The health care industry desperately needs specialists like our graduates."
How do I apply?
If what you have read so far matches your strengths, interests and your idea of what you would like to study and do – in short, if this sounds like the perfect degree programme for you, you should apply.
Applying for a master's degree programme is not much different from what you did when you applied for your bachelor's degree programme. Depending on whether you have acquired your university entrance qualification in Germany or abroad, the application process varies. If you went to school outside Germany, please apply via uni-assist. If your university entrance qualification was issued by a German school, please apply via our Online Service Tool.