Want to study with us?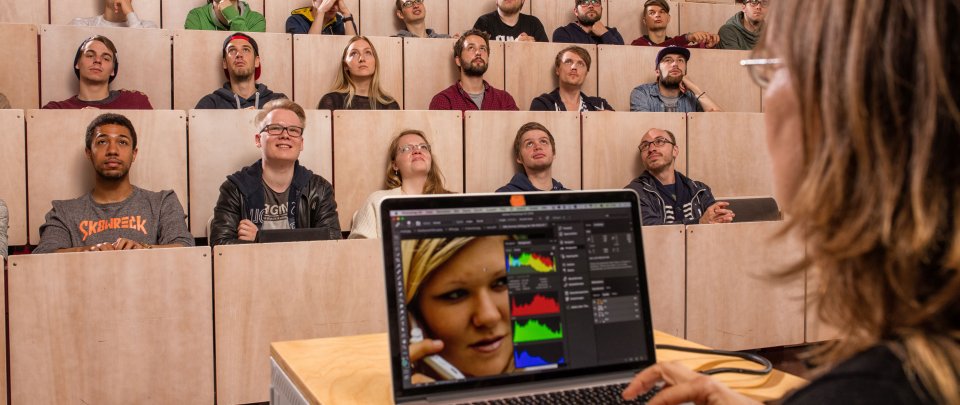 Programme title
Business Informatics
Starts in
winter semester
Degree
Bachelor of Science
Restricted admission
yes, minimum grade or similar
Accreditation
durch die ASIIN (Re-Akkreditierung läuft)
You're a student with us or want to know more?
Business administration or computer science or business administration and computer science? You don't have to choose. If you find computers just as interesting as people and the processes behind companies, and if you want to come out from behind the screen every now and then, Business Informatics is the perfect choice for you.
What is it about?
Companies not only produce more and more data, data is also becoming more and more important for companies. That is why the demand for people who understand both business and computers keeps increasing. They have the answer to the questions small and big businesses alike have: How can business processes be made to be more efficient? Which software can be used to solve specific problems? Does this software have to be developed first?
Our bachelor's degree programme Business Informatics combines the two pillars of success for every thriving company: business administration and IT. In this programme we won't only teach you to manage computers and the flow of data, we will also give you the tools you need to share your knowledge with others. Working in a team will be a major part of your studies – and your future job.
What will I learn? – Course content and structure
The bachelor's degree programme Business Informatics is designed to take six semesters. In these three years you will acquire knowledge in lectures and use and apply it in tutorials and projects.
The first two semesters will mainly focus on the basics. Your curriculum will include programming languages as well as business processes, networks and the design of user interfaces. In the third and fourth semester of your studies we will focus on business application systems. This means you will learn everything about how to manage businesses efficiently – including the tools to use and anything that is information-based really. You will learn about algorithms as well as database systems and data management. In the fifth semester of your studies you will work on your own software project and we will show you what systems analysis is all about.
The curriculum also includes classes on marketing, communication skills and commercial and IT law.
This combination will equip you with all you need to take on the job you want. You can catch a first glimpse of this job during your internship in the sixth semester of your studies. You have three months to learn and work in a company and who knows, maybe you will find the topic for your bachelor's thesis. You'll have two months to write this thesis following your internship.
After you have successfully completed your studies, we will award you the degree Bachelor of Science (B.Sc.).
Degree programme leaflets
Curriculum
What can I do with it? – Career prospects
You bachelor's degree gives you the choice: Master's degree? Or kick-start your career? Here at Flensburg University of Applied Sciences we have a master's degree programme in Business Management in which you can major in Business Informatics for example.
If you want to start working instead, the answers our former graduates gave us in our annual surveys, may help you to get an idea of what exactly you want to do for a career: Almost two thirds of the graduates that took our survey said it took them less than a month to find a job after their graduation. More than half of our former students first got in touch with their future employer during their studies.
Of course most of them work in IT now: They work in software development as well as in IT services. They also work for banks, in the chemical industry, in teaching and training and in mechanical engineering and the automotive industry.
They are employed as software developers here, as consultants for IT, business processes and SAP. They programme systems, are the head of departments and administrate databases. Our graduates analyse systems and venture capital investments, they plan and lead projects, they design and develop. They create Business Intelligence Systems, advise their employers on processes and they communicate with clients.
How do I apply?
If what you have rad so far matches your strengths, interests and your idea of what you would like to study and do - in short, if this sounds like the perfect degree programme for you, you should apply.
Depending on whether you have acquired your university entrance qualification in Germany or abroad, the application process varies. If you went to school outside Germany, please apply via uni-assist. If your university entrance qualification was issued by a German school, please apply via our Online Service Tool.