Want to study with us?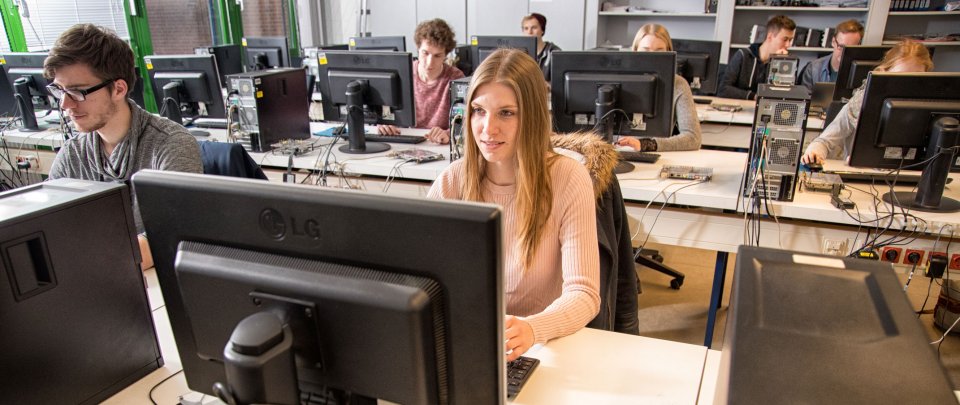 Programme title
Business Administration
Major
Financial Accounting and Taxation
Starts in
summer semester
Restricted admission
yes, minimum grade or similar
You're a student with us or want to know more?
Number crunchers and paragraph puzzlers, listen up: No business works without taxes and balance sheets. Whether it is an SME or a large corporate, whether it is based in Flensburg, in another part of Germany or somewhere else in the world. This major will open doors for you.
What is it about?
First things first: You do not need to be a maths wizard for this major to be the right one for you. You should be able to think logically, you should enjoy fiddling for good solutions and to work with paragraphs and you should have a love for detail. Because this major is not just about knowing your numbers, you also have to know and apply legal regulations.
Whether it is in accounting, in tax consulting or in auditing – experts with special knowledge on this area are in high demand in all industry sectors.
What will I learn? – Course content and structure
In the first three semesters of your studies you will build the solid foundation for your future career. Mathematics and statistics will be part of your studies as well as investment and finance, the digital economy and marketing. We will also bring your academic writing and research skills up to speed and help you to get your English language skills to the level you'll need for your career. That's what we created the "English and Methods" block for. In the fourth and fifth semester of your studies you then choose your major, Financial Accounting and Taxation for example.
Your major modules provide you with thorough technical knowledge on the topic of your choice, you will learn about the various aspects of financial accounting and taxation. In classes on advanced financial reporting you will learn how to produce individual financial statements as well as consolidated financial statements in accordance with German and international standards. Another focus point is dealt with in the modules on taxation, where you will learn what there is to know about selected tax types. In the modules on advanced management accounting you will learn about production and distribution control, you will be introduced to advanced cost accounting systems and learn to apply standard and activity-based costing.
In addition to your major modules you can choose from a broad range of supplementary modules. These vary from semester to semester. Take the opportunity to add knowledge and skills on leadership, entrepreneurship and human resources to your ever increasing expertise on taxation and accounting and thus be even better prepared for your professional future. Or further increase your expertise with knowledge on international tax law and current topics from accounting and taxation.
"At the end of your studies you will be able to produce a comparison of fiscal burdens by combining the individual pieces we worked on to a comprehensive picture. Taxes can be fun, believe me." Prof. Dr. Iren Dreyer
One thing will stay the same throughout your studies: We're here for you. The major modules especially are taught in small groups. For us teaching is not preaching, we will not deliver monologues in our classes. Instead we want you to be an active part of the classes and of finding answers and solutions. Our teaching staff will pass on knowledge based on first-hand experience gathered during their years of having worked in industry. This close connection to industry also becomes apparent in guest lectures, in this major you'll have the chance to learn from speakers from auditing firms such as BDO and PwC for example.
And who knows, maybe you'll make your first valuable contacts here, because in the sixth and last semester of your studies, you will get a taste of the real world: You will complete a three-month internship in a company of your choice and apply what you have learned in your studies so far. Maybe your internship will even provide you with a topic for your bachelor's thesis which you will write in the following eight weeks. Once you have completed this, you will finish your studies as a Bachelor of Arts (B.A.).
Degree programme leaflets
Curriculum
What can I do with it? – Career prospects
Your bachelor's degree is a great qualification on the job market. It also gives you the choice of studying on for a master's degree. If you choose the latter – as do about a third of our graduates that we surveyed – the master's degree programme in Business Management with its Finance and Accounting major here at FUAS might interest you.
If you've had enough of studying for now, your career prospects are bright: 45% of the alumni we asked had signed a job contract within one month after their graduation. You bachelor's degree will usually be sufficient qualification for employers in this field: We can say from experience that our graduates have been highly sought after in Flensburg and the region.
Your degree in Financial Accounting and Taxation creates various perspectives for your professional career. It can be your basis for entering the field of tax consulting on the one hand. If you are planning to complete the German Steuerberaterexamen [official examination to become a certified tax consultant], this major is the right one for you. If you want to follow that route, your degree will allow you to reduce the time that you need to have worked in this field to three years.
On the other hand, this degree also is the ideal preparation for a career in auditing and the examination you have to complete to pursue this career. Our graduates are popular candidates in auditing firms, not just for internships but also once they have completed their studies.
Working in the accounting department of a company is another attractive career option. With the knowledge on external and internal accounting that you gained during your studies, you are a great candidate both in large scale companies and in medium enterprise.
The career options open to you with your degree in Financial Accounting and Taxation are as attractive as they are numerous. And whether you want to work in tax consulting or in auditing, your future job is in a crisis proof field.
Our former students work in the tax departments of large companies and in tax consulting; they produce financial statements, work in auditing or in accounting for small and medium enterprise. The options are manifold.
How do I apply?
If what you have rad so far matches your strengths, interests and your idea of what you would like to study and do - in short, if this sounds like the perfect degree programme for you, you should apply.
Depending on whether you have acquired your university entrance qualification in Germany or abroad, the application process varies. If you went to school outside Germany, please apply via uni-assist. If your university entrance qualification was issued by a German school, please apply via our Online Service Tool.