Want to study with us?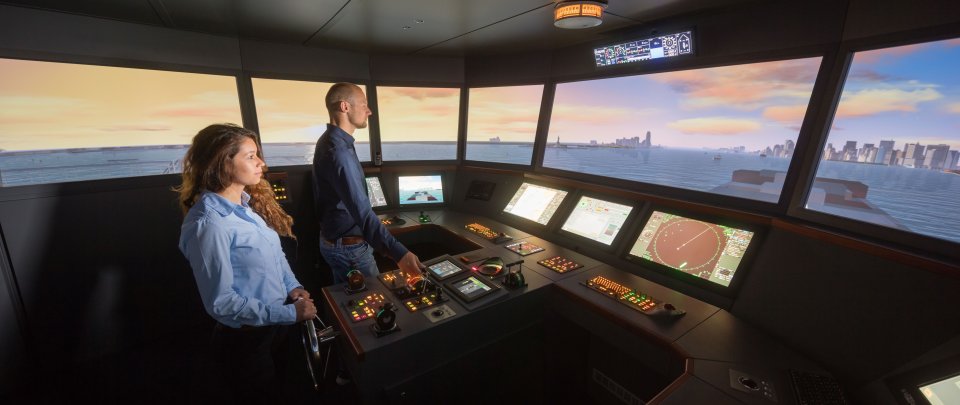 Programme title
Maritime Transport, Nautical Sciences and Logistics
Starts in
summer semester
Degree
Bachelor of Science
Restricted admission
no specific restrictions
You're a student with us or want to know more?
You want to navigate big container ships? We'll teach you how in one of Northern Europe's biggest and most modern ship bridge simulators. But we'll also teach you how to manoeuvre your way in the areas of business, transport and logistics. Just in case you want to swap water for land later...
What is it about?
Our world's economy could not exist without huge container ships delivering thousands of tons of cargo from one corner of the world to the other in one go. No other means of transport moves as many raw materials, building components and goods around the globe – more than 90% of world trade is executed by ship.
To ensure that all these ships and their cargo reach their destination safely, the world needs specialists who steer them, sea captains and masters as well as pilots and logistics experts in the harbours. If you want to be one of the people steering world trade, come aboard.
What will I learn? – Course content and structure
Your studies will take eight semesters altogether. Two of which you will spend at sea. If you have completed maritime training already and you can provide the necessary certificates, this can count towards your studies so that your time studying is reduced to six semesters. (For more information check the How do I apply section.)
In your first two semesters here at FUAS you will learn basics such as mechanics, maths, computer science and logistics. Afterwards you will focus on topics more specific to maritime jobs and tasks. Your curriculum will include meteorology as well as personnel management, shipping law and bridge procedures. In the last semester of your studies here at FUAS you have two months to write your bachelor's thesis. You also get to spend plenty of time in our ship bridge simulator and you will learn everything you need to know about safety precautions and emergency management.
Apart from technical and maritime knowhow your future job will also require more general knowledge and skills such as English, business administrative and legal basics. That is why throughout your studies your curriculum will include these topics, too.
After completing your studies we will not only award you the degree Bachelor of Science (B.Sc.), you will also have completed course contents for ship management personnel in accordance with internationally recognised standards. So, you're all set for a successful career on the ship bridge.
Degree programme leaflets
Further documents for your internship
Informationen zum verkürzten Bachelorstudium
Curriculum
What can I do with it? – Career prospects
Your bachelor's degree qualifies you for both a career and a master's degree. It's up to you.
To make navigating your options a little easier we put together the answers from our graduates surveys from the last years: The large part of our graduates pursued a career after finishing their studies, more than half of them signed their employment contract within three months after their graduation. A lot of them work in seafaring: They are chief mates and officers, bridge watchmen and fleet managers and work for shipping and cruise companies. Others work in the energy and offshore wind industry.
Their job description include tasks like navigating and steering ships, supervising the loading process but also planning, coordinating and managing as well as work aboard and providing healthcare.
How do I apply?
If what you have rad so far matches your strengths, interests and your idea of what you would like to study and do - in short, if this sounds like the perfect degree programme for you, you should apply.
Depending on whether you have acquired your university entrance qualification in Germany or abroad, the application process varies. If you went to school outside Germany, please apply via uni-assist. If your university entrance qualification was issued by a German school, please apply via our Online Service Tool. If you have completed maritime training already and you can provide the necessary certificates, this can count towards your studies so that your time studying is reduced to six semesters. Please ask our Course Guidance team for details.