Want to study with us?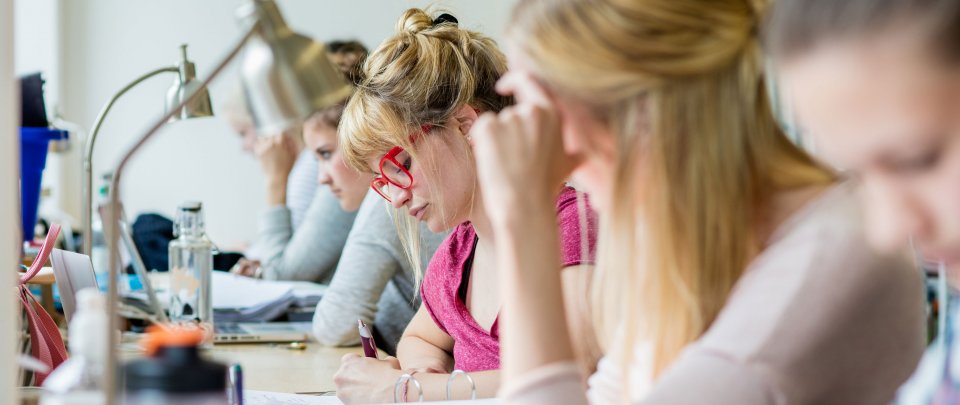 Programme title
Business Administration
Major
Management in Health Care
Starts in
summer semester
Restricted admission
yes, minimum grade or similar
You're a student with us or want to know more?
Do you know which sector employs the highest number of people in our home region of Schleswig-Holstein? The health sector. Demographic changes and the much talked about shortage of skilled professionals make this important field even more important; and you can help shaping it. Management in health care extends further than just to hospitals, it includes caregiving, health insurance providers, rehabilitation facilities, the pharmaceutical industry and a number of other areas.
What is it about?
Our population is aging rapidly – no news there. The health sector is growing similarly rapidly: This includes hospitals, university hospitals, caregiving at home and in homes, health insurance providers, rehabilitation facilities, health care and nutrition consulting and other aspects of a long and healthy life. The demand for all of these fields is growing increasingly which means they need to be managed professionally, more so now than ever before. New infrastructure to provide people with the various aspects of health care needs to be established and existing infrastructure needs to be put under the microscope. Health prevention plays a crucial role in this.
In this major you will acquire expertise on health economic questions as well as a solid foundation in business administration. You will gain insights into the different aspects relevant to management in health care – and you will learn to apply them. The work this field requires is as diverse as the people who do it. What they have in common aside from the ability to work across the borders of numerous disciplines, is one thing in particular: They are willing to tackle specific problems and take on responsibility. They do this in quality management as well as in process planning, when they set up guidance systems or produce requirement analyses.
And while these tasks wait to be solved in the first health market, the so-called second health market is becoming more and more relevant. Be an active part of exploiting that market and find the answers to questions that are not only relevant to our future: How can we adapt travels to the needs of people who require medical assistance? How can we supply health care? What adaptions and developments need to be made to guarantee this supply?
"If you want to have an impact on the framework conditions in the health care and health industry and if you want to improve these conditions, you've come to the right place." Prof. Dr. Bosco Lehr
What will I learn? – Course content and structure
In the first three semesters of your studies you will build the solid foundation for your future career. Mathematics and statistics will be part of your studies as well as investment and finance, the digital economy and marketing. We will also bring your academic writing and research skills up to speed and help you to get your English language skills to the level you'll need for your career. That's what we created the "English and Methods" block for. In the fourth and fifth semester of your studies you then choose your major, Management in Health Care for example.
Your major modules provide you with thorough technical knowledge on the topic of your choice and on business administration in general. So, we will discuss problems from business administration in relation to health care in all modules. We will be talking about Quality Management for example, and about medical basics, about processes and Information Management. But you will also gain health care specific knowledge on strategy and legal basics and take modules on management control and finance.
In addition to your major modules you can choose from a broad range of supplementary modules. These vary from semester to semester. This major lets you connect to all fields of business administration, whether that is marketing, management control or logistics. Make use of that opportunity! In your future career your subject-specific knowledge will only be one important aspect of many – your ability to work in a team will also matter as will your ability to think in and work along processes and your intercultural competence. We will make sure you are qualified to succeed in all of these areas. We don't think you can learn everything you need to know from books only. We believe in letting our students apply their knowledge.
The re-occurring theme you will keep encountering during your studies is the standing tradition the topic of management in hospitals and health care has at FUAS. Our track record of more than 25 years of experience in this field reflects in the cooperation with hospitals for example. Use this anchor into practice to be an active part of projects and work in applied research and, of course, to establish a network for your later career. But our network doesn't stop at the German border, it stretches as far as Scandinavia, Finland and the Baltic region. Make use of this network by participating in international projects or by studying abroad.
In the sixth and last semester of your studies, you will get a taste of the real world: You will complete a three-month internship in a company of your choice and apply what you have learned in your studies so far. The close cooperation with companies from the health sector, hospitals and clinics you experienced in the course of your studies, will help you to find an internship placement.
Maybe your internship will even provide you with a topic for your bachelor's thesis which you will write in the following eight weeks. Once you have completed this, you will finish your studies as a Bachelor of Arts (B.A.).
Degree programme leaflets
Curriculum
What can I do with it? – Career prospects
Your bachelor's degree is a great qualification on the job market. It also gives you the choice of studying on for a master's degree. If you choose the latter – as do about a third of our graduates that we surveyed – the master's degree programme in eHealth or that in Business Management here at FUAS might interest you.
If you've had enough of studying for now, your career prospects are bright: 45% of the alumni we asked had signed a job contract within one month after their graduation.
"Our graduates don't only find jobs very quickly, they also move on in their career very quickly." Prof. Dr. Bosco Lehr
Your degree in Management in Health Care qualifies you for jobs in management control as well as in quality management and information management – in hospitals, in the health and caregiving sector, with health insurance providers and others.
Our graduates work in hospitals, for social services, in rehabilitation and in health consulting. They work in management control and in quality management for large and smaller enterprise. They also work in the insurance sector. They work on management level and are trainees on their way to becoming managers.
Their job titles are as varied as the fields they work in: They include account manager, case manager and QM officer. Our alumni work as management assistants, in accounting and in HR departments. They have jobs in operative management control and in health care consulting. They analyse, report and develop processes. They manage projects and hold trainings. They aggregate data, document and present them.
How do I apply?
If what you have rad so far matches your strengths, interests and your idea of what you would like to study and do - in short, if this sounds like the perfect degree programme for you, you should apply.
Depending on whether you have acquired your university entrance qualification in Germany or abroad, the application process varies. If you went to school outside Germany, please apply via uni-assist. If your university entrance qualification was issued by a German school, please apply via our Online Service Tool.