Want to study with us?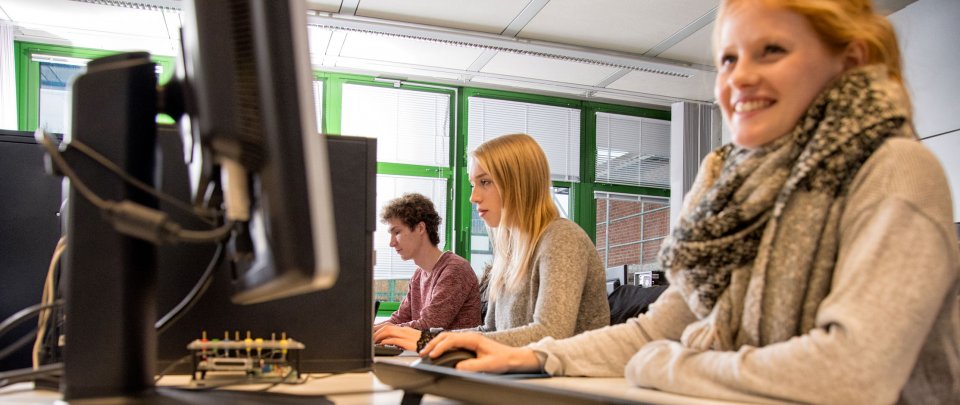 Programme title
Business Administration
Major
International Business
Starts in
summer semester
Restricted admission
yes, minimum grade or similar
You're a student with us or want to know more?
Business is becoming more and more global – not just for the big players but for small and medium enterprises as well. In business national borders become more and more permeable, oftentimes they simply fall. If you want to do more than just watch this falling of borders, if you want to be an active part of it, this is your major.
What is it about?
Companies are becoming increasingly more international, the context they work and take decisions in becomes more and more global. This is true for the more traditional industry but even more so for the digital industry. To successfully tackle and conquer the challenges that cross-border business constantly faces, it needs people that are experts in their fields and socially responsible humans and who are both curious and culturally aware.
"This major is perfect for everyone who is curious and interested – in business topics and other cultures. And that's not limited to particular industry sectors or functions in a company." Prof. Dr. Alexander Deseniss
If you are all these things, this degree programme will prepare you for management responsibilities in international and internationally active companies. You will learn what it means to work on business questions in a team with people from different countries, to be internationally mobile and to move around different cultures with confidence. You don't have to decide on a particular business administrative function because developments such as the increasing mobility, technological advancement and the increasing internationalization are relevant for all areas of business administration.
What will I learn? – Course content and structure
In the first three semesters of your studies you will build the solid foundation for your future career. Mathematics and statistics will be part of your studies as well as investment and finance, the digital economy and marketing. We will also bring your academic writing and research skills up to speed and help you to get your English language skills to the level you'll need for your career. That's what we created the "English and Methods" block for. In the fourth and fifth semester of your studies you then choose your major, International Business for example. If this is the major of your choice, you will study in Flensburg for one semester and abroad in one of our partner universities for another semester.
Your major modules provide you with thorough technical knowledge on the topic of your choice, entirely taught in English. In the summer semester, the semester you will study in Flensburg, you will gain insights into the basics of international marketing. Your curriculum also includes modules on Strategic Planning and Control and Logistics and Operations Management. This will qualify you for all key functions of business administration.
In addition to your major modules you can choose from a broad range of supplementary modules. These vary from semester to semester. In your future career your subject-specific knowledge will only be one important aspect of many – your ability to work in a team will also matter as will your ability to think in and work along processes and your intercultural competence. We will make sure you are qualified to succeed in all of these areas. We don't think you can learn everything you need to know from books only. We believe in letting our students apply their knowledge. You can also choose supplementary modules from the modules offered at FUAS' other faculties. This gives you the chance to personalise your studies.
Whether it's a major or a supplementary module, one thing applies to all of them: As a university of applied sciences we think theory and practice go hand in hand. You will be taught by people who have a track record of experience in business and industry as well as passion for their subject. For additional expertise we'll spice your curriculum up with external lecturers or workshops or you simply go and pay the real world a visit as part of a field trip.
The winter semester you will spend at one of our partner universities abroad. The aspects you'll be looking into during this semester are of course dependent on the courses offered by the university. Take this opportunity to put a focus on those subjects you are most interested in and that match your plans for your future. And, and that's more than a nice side-effect, you will learn to feel comfortable in a different cultural context and you will improve your language skills.
"If you want to work on management level, you will be expected to be ready to take over responsibilities abroad. That is not unusual at all. Intercultural competence and English skills are 'conditio sine qua non'." Prof. Dr. Alexander Deseniss
In the sixth and last semester of your studies, you will get a taste of the real world: You will complete a three-month internship in a company of your choice and apply what you have learned in your studies so far. Maybe your internship will even provide you with a topic for your bachelor's thesis which you will write in the following eight weeks. Once you have completed this, you will finish your studies as a Bachelor of Arts (B.A.).
Degree programme leaflets
Curriculum
What can I do with it? – Career prospects
Your bachelor's degree is a great qualification on the job market. It also gives you the choice of studying on for a master's degree. If you choose the latter – as do about a third of our graduates that we surveyed – the master's degree programme in Business Management here at FUAS might interest you.
If you've had enough of studying for now, your career prospects are bright: 45% of the alumni we asked had signed a job contract within one month after their graduation.
Your degree with a major in International Business can be a door opener for a career in a number of industries. And your options or not limited to careers with big companies, international business relations are a part of the everyday work in small and medium enterprises today; this includes procurement as well as sales and marketing.
You are qualified for jobs on management level in companies and organisations as well as for jobs such as marketing manager for a specific region, international business developer, sales manager or project manager.
How do I apply?
If what you have rad so far matches your strengths, interests and your idea of what you would like to study and do - in short, if this sounds like the perfect degree programme for you, you should apply.
Depending on whether you have acquired your university entrance qualification in Germany or abroad, the application process varies. If you went to school outside Germany, please apply via uni-assist. If your university entrance qualification was issued by a German school, please apply via our Online Service Tool.