Want to study with us?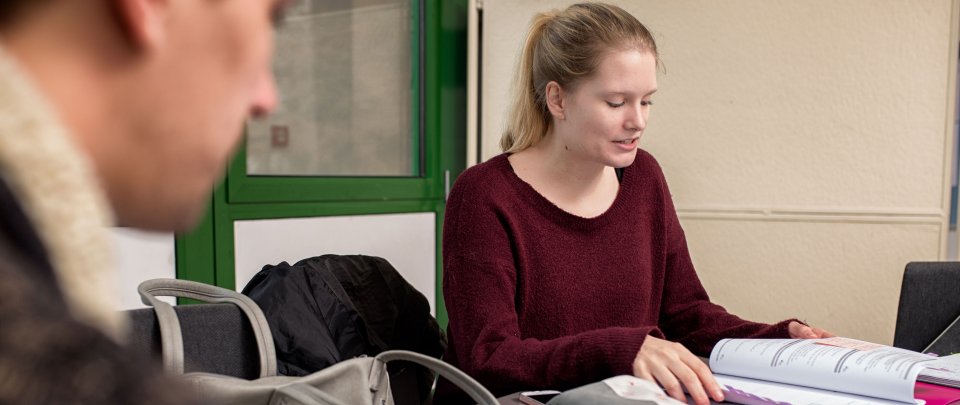 Programme title
Business Administration
Major
Human Resource Management
Starts in
summer semester
Restricted admission
yes, minimum grade or similar
You're a student with us or want to know more?
It's one thing to find qualified staff. To then keep these employees and to support and motivate them by providing appropriate working conditions is just as important. If you understand that employees are not a mere cost factor but an important resource for the success of a business, you have found your major.
What is it about?
In times when there is a shortage of skilled professionals, human resource management becomes increasingly relevant for the long-term success of a company because people make the difference. From recruiting staff to qualifying them further and creating healthy working conditions – there are a lot of tasks and responsibilities for HR managers. Advertising a job and then filling it with the help of assessment centres and interviews, organising further qualification opportunities, creating incentives, ensuring good working conditions – this short list already includes a number of questions from the fields of business administration, social sciences and law. People working in human resource management need to know the answers to these questions.
"Modern human resource management tries to find a balance between productivity and humanness. HR managers are there to provide both the company and its employees with ideas and impulses." Prof. Dr. Kirsten Rohrlack
To be successful in this broad field you need to work in a process-oriented, systematic manner and know what you do. You should always remain curious and enjoy solving tricky questions, too. Your actions should be aligned with the company's values and objectives and you should always keep the consequences of these actions in mind. If you find yourself in this description, you will have no problems communicating and cooperating with the management and the other departments and units in the company. Because the final results will only be satisfying for everyone if you don't simply work for yourself but for and with the entire organisation.
And for the company to maintain and, indeed, increase its competitiveness, it is crucial that its employees enjoy going to work and putting their skills and knowledge to use for the company. In this major we will equip you with the tools you need to recruit, support and keep the staff of your future company – always staying in close contact with practice.
What will I learn? – Course content and structure
In the first three semesters of your studies you will build the solid foundation for your future career. Mathematics and statistics will be part of your studies as well as investment and finance, the digital economy and marketing. We will also bring your academic writing and research skills up to speed and help you to get your English language skills to the level you'll need for your career. That's what we created the "English and Methods" block for. In the fourth and fifth semester of your studies you then choose your major, Human Resource Management for example.
Your major modules provide you with thorough generalist knowhow, you will learn about the various aspects of human resource management. You will take modules on recruiting and personnel development, ergonomics and reward strategies. One very important aspect of your studies will be labour law on which you will acquire thorough knowledge and skills over the course of two semesters.
In addition to your major modules you can choose from a broad range of supplementary modules. These vary from semester to semester. In your future career your subject-specific knowledge will only be one important aspect of many – your ability to work in a team will also matter as will your ability to think in and work along processes and your intercultural competence. We will make sure you are qualified to succeed in all of these areas. We don't think you can learn everything you need to know from books only. We believe in letting our students apply their knowledge.
This focus on application and practice will be the red thread throughout your studies, including the major of course. We don't merely want to transfer knowledge to you. We want you to also share your own experience and make new ones along the way. That is why you will work in interactive formats in small groups, work on case studies and assessment centres. You will analyse job applications and practice interview situations.
In the sixth and last semester of your studies, you will get a taste of the real world: You will complete a three-month internship in a company of your choice and apply what you have learned in your studies so far. Often your internship will even provide you with a topic for your bachelor's thesis which you will write in the following eight weeks. Once you have completed this, you will finish your studies as a Bachelor of Arts (B.A.).
Degree programme leaflets
Curriculum
What can I do with it? – Career prospects
Your bachelor's degree is a great qualification on the job market. It also gives you the choice of studying on for a master's degree and gaining further qualification. If you choose the latter – as do about a third of our graduates that we surveyed – the master's degree programme in Business Management here at FUAS might interest you.
If you've had enough of studying for now, your career prospects are bright: 45% of the alumni we asked had signed a job contract within one month after their graduation. Many of them work for small and medium enterprise here in the region but also further away. A lot of our students meet their first employer during their internship. But even if you stat your job search after your studies: your bachelor's degree is sufficient qualification.
Your degree with a major in human resource management qualifies you for jobs in all fields and branches. Our graduates work in a variety of fields: From trade to health care and media, from the banking sector to machine and car manufacturers, from transport to IT and consulting.
Of course our alumni work in HR departments and for HR service providers. They are HR officers and trainers, work as personnel and organisation developers or as assistant to the head of HR. They work for consultancy firms as HR consultant or trainer and they are self-employed. Our graduates have management responsibility in various areas: from team lead to head of administration and CEO.
The main responsibilities our former students have in their daily work are personnel management, organising and giving trainings. They analyse, report and present. They calculate, conceptualise and coordinate.
How do I apply?
If what you have rad so far matches your strengths, interests and your idea of what you would like to study and do - in short, if this sounds like the perfect degree programme for you, you should apply.
Depending on whether you have acquired your university entrance qualification in Germany or abroad, the application process varies. If you went to school outside Germany, please apply via uni-assist. If your university entrance qualification was issued by a German school, please apply via our Online Service Tool.