Want to study with us?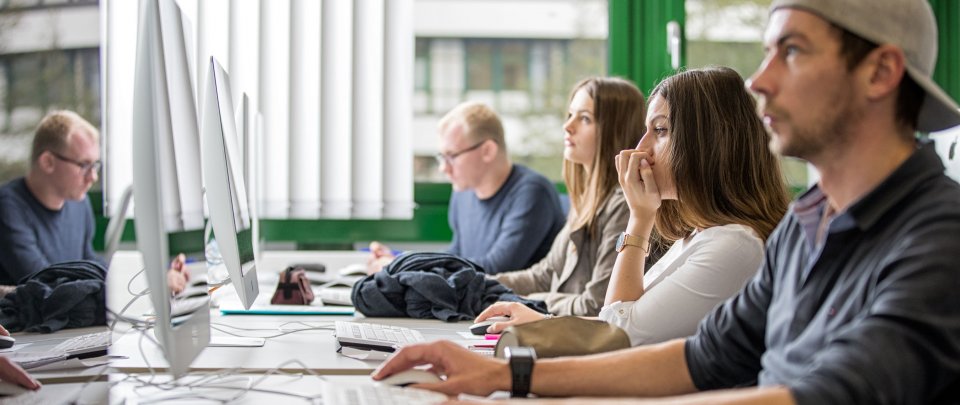 Programme title
Business Administration
Starts in
summer semester
Restricted admission
yes, minimum grade or similar
You're a student with us or want to know more?
You have it all under control – to manage a business successfully, you should neither be scared of juggling numbers nor of complex processes and interdependencies. You should like them. If you want to play an active role in the future and the success of a company, this is your major.
What is it about?
Controllers are people with a strong organisational skill, an idea and an eye on what's happening. They know the processes going on in a company and understand how they relate to each other. And if you are familiar with processes and their interdependencies, you are able to get to the core of things and find causes and solutions to problems. So you should be curious to learn and understand new things and you should like to analyse things.
Control is a word with many meanings after all – manoeuvre, steer and being in charge are just some of them. Management Control is the basis upon which business management decisions are made: It includes a company's organisation as well as financial planning and risk management. Controllers filter the flood of data for those that are actually relevant.
"There is a story behind each number. To look into these stories is what management control is about." Prof. Dr. Uwe Szyszka
If you want to work in management control, you should like to communicate and have an international mindset. Be prepared to work in teams as management control takes place in the big picture not at a small desk. And you should definitely enjoy working with numbers as they are usually the basis for future planning and the success of a business. By providing analyses of a business and the context it operates in, plans and information, management control largely contributes to the way a business is managed. In this major we will prepare you to take on the responsibility that comes with these tasks.
What will I learn? – Course content and structure
In the first three semesters of your studies you will build the solid foundation for your future career. Mathematics and statistics will be part of your studies as well as investment and finance, the digital economy and marketing. We will also bring your academic writing and research skills up to speed and help you to get your English language skills to the level you'll need for your career. That's what we created the "English and Methods" block for. In the fourth and fifth semester of your studies you then choose your major, Management Control for example.
Your major modules provide you with thorough technical knowledge and you will learn about the various aspects of management control. The individual modules refer to and build upon each other: In the Advanced Management Accounting modules you will learn about production and distribution control, you will be introduced to advanced cost accounting systems and learn to apply standard and activity-based costing. In the modules on strategic planning and control we will introduce you to balanced scorecards and value-based management. You will also learn how to create competitor analyses and develop competitive strategies on the basis of these analyses. In the course of your studies you will also learn to understand and apply early warning systems, GAP analyses and other management tools. In classes on selected topics of management control you will learn about project management control and management control in multinational companies. Your curriculum will also include classes on advanced financial reporting.
You will be working in small groups throughout your studies. We also put a focus on working on projects as you will be working on projects a lot in your career. But projects are not the only way we keep in touch with the real world, we cooperate with a number of industry partners from our region such as the Flensburg shipyard FSG and the public utility here in Flensburg.
In addition to your major modules you can choose from a broad range of supplementary modules. These vary from semester to semester. In your future career your subject-specific knowledge will only be one important aspect of many – your ability to work in a team will also matter as will your ability to think in and work along processes and your intercultural competence. We will make sure you are qualified to succeed in all of these areas. We don't think you can learn everything you need to know from books only. We believe in letting our students apply their knowledge.
If you want to broaden more than your expert knowledge and if you want to combine your studies with travelling and discovering other parts of the world, you should study abroad for one (or more) semester(s). We have various partner universities internationally (in India and Spain for example). These partnership agreements make it particularly easy for you to integrate the world into your studies. You also jave the opportunity to acquire a double degree: If you decide to spend part of your studies at our partner universities in Australia or Finland, you will be awarded two degrees at the end of your studies.
In the sixth and last semester of your studies, you will get a taste of the real world: You will complete a three-month internship in a company of your choice and apply what you have learned in your studies so far. Maybe your internship will even provide you with a topic for your bachelor's thesis which you will write in the following two months. Once you have completed this, you will finish your studies as a Bachelor of Arts (B.A.).
Curriculum
What can I do with it? – Career prospects
Your bachelor's degree is a great qualification on the job market. It also gives you the choice of studying on for a master's degree. If you choose the latter – as do about a third of our graduates that we surveyed – the master's degree programme in Business Management here at FUAS might interest you.
If you've had enough of studying for now, your career prospects are bright: 45% of the alumni we asked had signed a job contract within one month after their graduation.
"A large part of our students are packed and ready for their first day of work already when they have their colloquium at the end of their studies." Prof. Dr. Uwe Szyszka
Your degree with a major in management control qualifies you for jobs in all fields and branches, especially in large-scale industry. Wherever companies are to be run successfully, management control experts are in demand.
Our graduates work as controllers, they also work as consultants and project managers. They work in leading positions, as managers for example or as Head of Reporting. Their job contracts read titles such as account manager, business development manager and project engineer in the planning department. Some of our former students now work in management accounting or as organisational consultants.
This variety is also reflected in the range of industries our graduates work in: From the steel and metal industry to health care, from machine and car manufacturers, to chemistry and pharma and the fields transport, IT and consulting. Their job descriptions include tasks such as carrying out analyses, writing reports, developing and presenting. They calculate, conceptualise and coordinate.
How do I apply?
If what you have rad so far matches your strengths, interests and your idea of what you would like to study and do - in short, if this sounds like the perfect degree programme for you, you should apply.
Depending on whether you have acquired your university entrance qualification in Germany or abroad, the application process varies. If you went to school outside Germany, please apply via uni-assist. If your university entrance qualification was issued by a German school, please apply via our Online Service Tool.