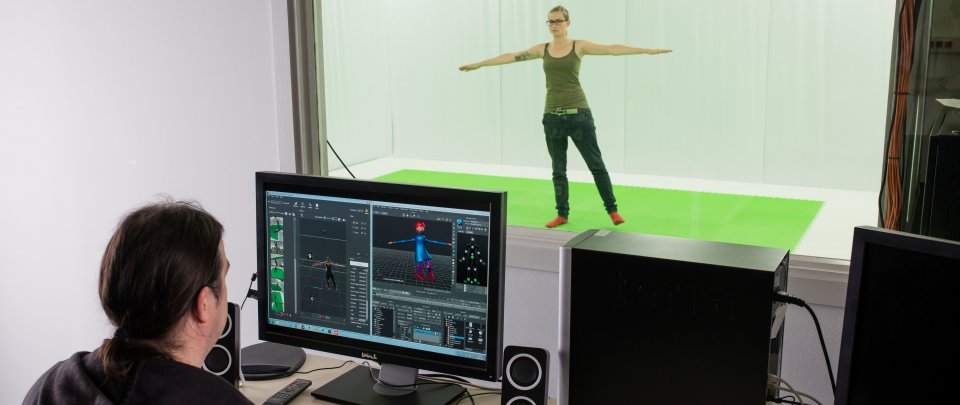 Programme title
Media Informatics
Starts in
winter semester
Degree
Bachelor of Science
Restricted admission
yes, minimum grade or similar
You're a student with us or want to know more?
The possibilities to present information are just as varied as the range of information we receive every day: texts, images, print, film, sound, websites, games, apps, short films, ads, 2D, 3D, loud, quiet, digital, analogue – if you're getting excited as you read this, you should read on.
What is it about?
When media meets computer science, an abundance of possibilities to process information and present them is created.
How can data be made accessible across platforms? How are mobile computer games developed? How do you create virtual realities? In this programme we will help you find the answers to these and other questions.
How can you tell an entire story in just 30 seconds? The secret lies in the perfect mixture of language – spoken and written, images – still and moving, music and design. Do you want to explore new ways of telling and presenting stories with us?
What will I learn? – Course content and structure
Altogether, our bachelor's degree programme in Media Informatics is designed to take seven semesters. You choose one of the two majors right at the beginning of your studies:
- Film,
- Media Programming.
The major of your choice will influence your curriculum throughout your studies: If you put your focus on film, you will learn about Film Language, Film Editing and Film Score. The Media Programming curriculum includes modules such as Modelling, Design Patterns, Image Editing and Virtual Reality. At the end of your studies our lectures, laboratories and seminars will have given you plenty of opportunities to study, try out and experience all of these topics. You will also have carried out your own projects in small teams.
For example, our students play an active part in organising and promoting the Flensburger Kurzfilmtage, a short film festival in Flensburg. They create impossible to miss displays for trade fairs, shoot ads for businesses from our region and sometimes even for us.
All of this is possible because we have a number of great labs and studios that you will spend part of your studies in:
Green screen lab

Motion capturing lab

Stop motion lab

Audio studio

3D computer graphics labs

Usability lab

Human-computer interaction and virtual reality lab
And you don't have to decide for just one of them, the first six semesters of your studies will give you plenty of time and opportunity to try out a lot of different things. Outside our labs you will learn to develop ideas and communicate them.
In the seventh semester of your studies, things will get even more real: You will complete a three-month internship and then have another two months to write your bachelor's thesis. After you have successfully completed your studies, we will award you the degree Bachelor of Science (B.Sc.).
Degree programme leaflets
Curriculum
What can I do with it? – Career prospects
After completing your bachelor's degree, you have the choice: Continue your studies? Or start your career? If you decide to pursue a master's degree, our master's degree programme Intermedia & Marketing may interest you.
If you want to start working instead, the answers our former graduates gave us in our annual survey, may help you to get an idea of what exactly you want to do for a career:
More than three quarters of our graduates said that they had found a job within less than a month after graduating. Their job titles read like this: Junior software engineer, developer for mobile solutions, developer for flash software, web developer, research assistant… Most of our former students work in software development, but they also have jobs in the game industry, in research institutes and departments.
And what exactly do they do there? They develop, of course: software and web projects for example. They coordinate and analyse, teach and do research. Their job descriptions also include programming graphics and leading teams.
How do I apply?
If what you have rad so far matches your strengths, interests and your idea of what you would like to study and do - in short, if this sounds like the perfect degree programme for you, you should apply.
Depending on whether you have acquired your university entrance qualification in Germany or abroad, the application process varies. If you went to school outside Germany, please apply via uni-assist. If your university entrance qualification was issued by a German school, please apply via our Online Service Tool.