Want to study with us?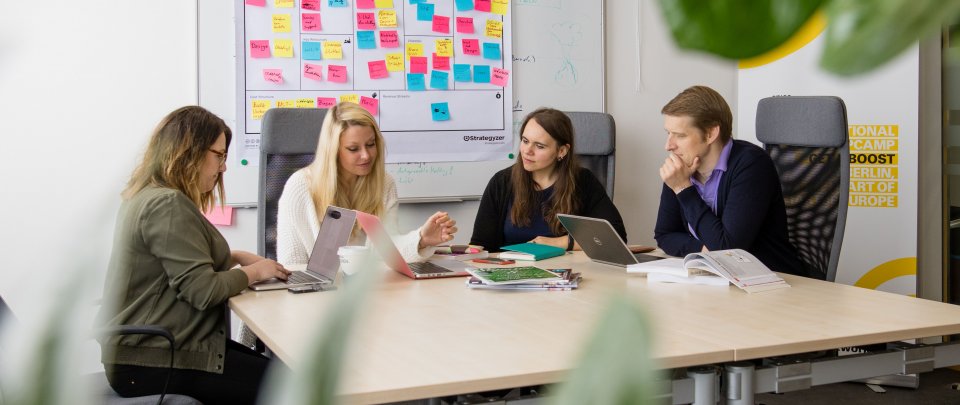 Programme title
Business Management
Starts in
winter semester
Restricted admission
yes, minimum grade or similar
Accreditation
durch die AQAS (Re-Akkreditierung läuft)
You're a student with us or want to know more?
The best business idea is doomed to fail without a good management behind it. Every business needs managers to control processes, be in charge of staff and finances and face the challenges of industry. Sounds like you? You should read on then.
What is it about?
More and more students enrol in business and management degree programmes – and there are numerous good reasons for this. As a business management graduate your career options will be as varied as the constantly expanding field of business. The Business Management programme at FUAS covers a range of subjects including marketing, law and supply chain management amongst others.
Today's economy is a rapidly changing environment, fuelled by globalization, increasingly complex processes and growing competition. This is why professionals who understand these contexts and can manage them successfully are needed more than ever. We need managers for big business as well as for small and medium enterprise, people who are able to create jobs and sell products and services. At FUAS we train these future managers.
What will I learn? – Course content and structure
The master's degree programme is designed to take two years until graduation. Graduates will be awarded a Master of Arts degree.
In the first three semesters you will attend the compulsory "general management" module and get to choose from a number of electives such as "finance and accounting", "entrepreneurship/SME" and "supply chain management".
The fourth semester them is dedicated to your master's thesis.
In our bachelor's programme we aim to prepare our students for specific careers within a company. As a master's student you will put these individual pieces of special knowledge together and in the end be qualified for a career in corporate management.
Degree programme leaflets
Curriculum
What can I do with it? – Career prospects
Your Master of Arts degree will qualify you for senior level jobs in private enterprise as well as in public organisations. You will even have the option to pursue a PhD.
If you want to venture out onto the job market rather than into the library, you will find a vast number of career opportunities at your fingertips. Your options are not limited to industry sectors or company sizes because you will have excellent skills in marketing management and possess relevant knowledge on the influence of globalization and ethics.
Your future career could be in the administrative management of a company or in supply chain integration and optimization or even in the management of start-up companies or small and medium sized enterprises. Or you may want to pursue a career as an assistant in financial auditing, in consulting or in logistics. Even if you want to create your own business, you will have all the skills and qualifications you need as M.A. in Business Management.  
How do I apply?
Admission to the master's degree programme is regulated by the official Study and Examination Regulations. You can find the most important requirements for admission below. If you are in doubt on your eligibility for the programme, please contact the programme advisor or the course guidance team.
You can apply for our master's degree programme in Business Management:
If you have graduated with a bachelor's degree or a German Diplom from a study programme related to business with a final grade of at least "GUT" [good], and
If you can provide evidence of your German language skills being sufficient
If you meet certain requirements, you may be able to apply for the programme even if you have graduated from a programme not related to business. Please contact us for further details.