Want to study with us?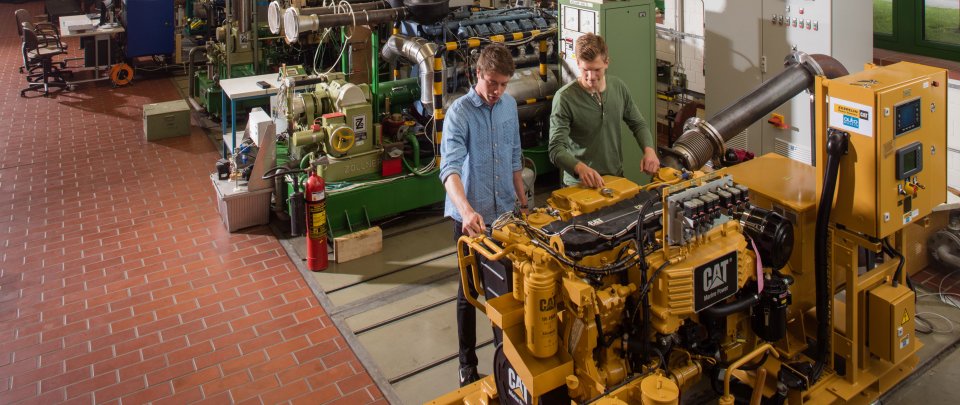 Programme title
Marine Engineering
Major
Mechanical Engineering for Ships
Starts in
winter semester
Degree
Bachelor of Engineering
Restricted admission
no specific restrictions
You're a student with us or want to know more?
What is it about?
Mechanical Engineering for Ships combines two fields that have a long tradition at Flensburg University of Applied Sciences: Marine Engineering and Mechanical Engineering. We are the only university in Germany offering this combination in one degree programme. If you want to work in the maritime industry without having to go to sea, we will provide you with the necessary tools for your career. No matter whether you want to work in a shipyard, for a supplier for maritime components or in a classification society.
Marine engineering is as complex as it is fascinating and because technology often works differently at sea than on land, the maritime industry needs experts like you, specialists with seaworthy engineering know-how.
What will I learn? – Course content and structure
This bachelor's degree programme is designed to take seven semesters until graduation.
In the first two semesters of your studies you will tackle engineering basics together with students of the Ship Operation Engineering major. You will study maths as well as electrical engineering and engineering mechanics. An important part of your studies will always be the application of what you learn: Our very own engine room simulators will give you the best possible insight into engineering processes on board that you can get without leaving the shore.
From the third semester onwards we will look at engineering in more depth: you will learn about installation engineering as well as petrol, oil and lubricants, about machine dynamics as well as combustion engines. In short, you will learn about all the engineering aspects relevant to the building and the operation of ships.
But there also are a number of topics not related to engineering that you should understand if you want to grasp ships as a whole. That's why we will look at aspects such as maritime safety and ship operation monitoring and you will learn about quality management and commercial law.
In the seventh and last semester of your studies you will apply what you learned so far in a three-month internship. Following this, you will have two months for the last big project of your studies: your bachelor's thesis. You're welcome to work on a topic in cooperation with a company from the maritime industry.
After you have successfully completed your studies, we will award you the degree Bachelor of Engineering (B.Eng.).
Degree programme leaflets
Curriculum
How do I apply?
If what you have rad so far matches your strengths, interests and your idea of what you would like to study and do - in short, if this sounds like the perfect degree programme for you, you should apply.
Depending on whether you have acquired your university entrance qualification in Germany or abroad, the application process varies. If you went to school outside Germany, please apply via uni-assist. If your university entrance qualification was issued by a German school, please apply via our Online Service Tool.