Want to study with us?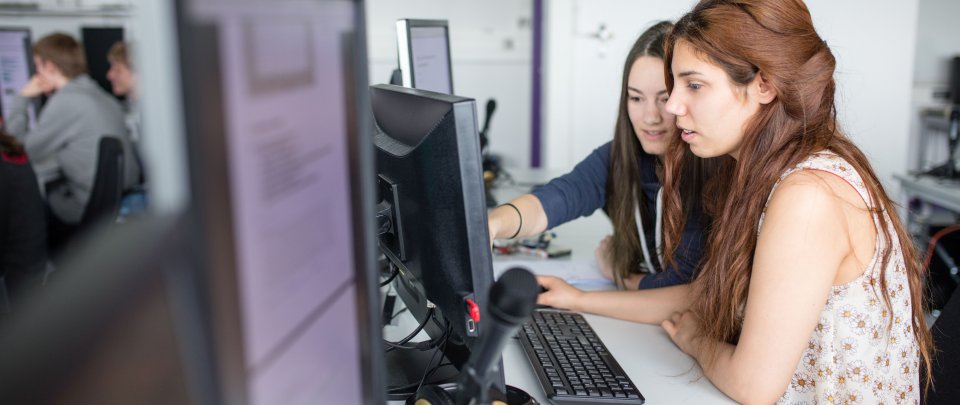 Programme title
International Technical Communication
Starts in
winter semester
Restricted admission
no specific restrictions
You're a student with us or want to know more?
Are you also tired of unintelligible manuals, badly written handbooks, wrong use of English? You won't fall for either of those traps after having completed this programme. You will learn to structure complex contexts and present them coherently, both in German and English. If you are just as passionate about language as you are interested in technology, and if you are not afraid to explore and use software solutions in this field, we have just the degree programme for you.
What is it about?
The world of business is becoming increasingly globalised – companies distribute their products and services in more than one country; which of course means they have to provide documentation of their products and services in more than one language. In general the term technical communication is used to describe communication about technical or specialised topics. There are two main careers in this field: technical writing and technical translation.
This includes researching technical information from different sources and creating and translating coherent texts. The final result is the documentation for a technical product or process, translated into different languages and adapted to meet the technical, legal and cultural specifics of the target country.
To do all this, you will work with the latest software systems aiding you in writing, translating and formatting technical documentation. Use our modern eye-tracking systems to analyse whether your documentation is understood by the target audience. Only then will it be useful to them.
So, if you are interested in language and in technology, come and study with us. This degree programme will provide you with academic and research skills as well as with the ability to apply them in practice and thus prepare you for a career in international business and industry.
What will I learn? – Course content and structure
The bachelor's degree programme International Technical Communication is designed to take seven semesters until graduation. At the end of your studies we will award you with the degree of Bachelor of Arts (B.A.).
In the course of your studies you will learn to write understandable technical texts, present and format them and translate them to meet subject-specific requirements. Throughout your studies you will work with software as it is used by professionals in industrial contexts. We have divided the programme into five building blocks that add up to give you a sound base of knowledge and skills:
Languages:

You communicate professionally both in English and German.

Application:

Learning by doing – throughout your studies you will apply what you learn in translating and writing.

Media:

You will learn to use computer-aided language processing. This includes machine translation and terminology management as well as content management, typography and layout.

Technology:

To make things understandable for others, it is crucial that you understand them yourself. That's why you will gather knowledge on technical processes and – most importantly – terminology.

Theoretical and academic foundation:

In the language and communication modules and in translation and technical writing theory we will provide you with a sound foundation for your work.
Together these building blocks make up the curriculum of the programme. In the third semester you can decide for one of two majors:
Technical Writing

or

Technical Translation

.
If you want, you can pursue the field you did not choose as your major via elective modules.
The fifth semester of your studies you will spend abroad – in an English-speaking country. You can either study at one of our partner universities or you can gain professional experience in an internship.
In the seventh semester there are only a few classes on your schedule to give you time to complete your bachelor's thesis.
Degree programme leaflets
Curriculum
What can I do with it? – Career prospects
You bachelor's degree gives you the choice: pursue your studies further in a master's degree programme or start your career? In surveys we took over the past years about half of our graduates decided to enrol in a master's degree programme.
If you also want to expand your knowledge and study for more in-depth knowledge, you can do so in the master's degree programme International Technical Communication here at FUAS. You can study this programme part-time and pursue your master's degree at the same time as you take your first career steps for example.
If you don't want to go on studying right away, your bachelor's degree will be a great door opener on the job market: In the surveys we took among our graduates about 70% of them said they had found their first job in less than three months after graduating. They work as localisation engineers, technical writers and translators in the fields of consulting and IT for example.
The industries our former students work in are numerous: They work for translation service providers in IT, mechanical engineering, the automotive industry and many more. There they write and translate manuals and documentation, they are responsible for information management and carry out trainings.
How do I apply?
If what you have rad so far matches your strengths, interests and your idea of what you would like to study and do - in short, if this sounds like the perfect degree programme for you, you should apply. Admission to the BA-degree programme is regulated by the official Study and Examination Regulations. You can find the most important requirements for admission below.
Admission requirements for our bachelor's programme in International Technical Communication:
A higher education entrance qualification (German Abitur, high school diploma, A-levels or similar)
Although there are no specific admission requirements to this bachelor's programme, we strongly recommend the following:
If you are a non-native speaker, you need to have high level German language proficiency (native speaker level, cf. level C 2).
If you have not learned English at school for approx. 7 years, your English language proficiency should be at a minimum of level B 1.
Depending on whether you have acquired your university entrance qualification in Germany or abroad, the application process varies. If you went to school outside Germany, please apply via uni-assist. If your university entrance qualification was issued by a German school, please apply via our Online Service Tool.