Want to study with us?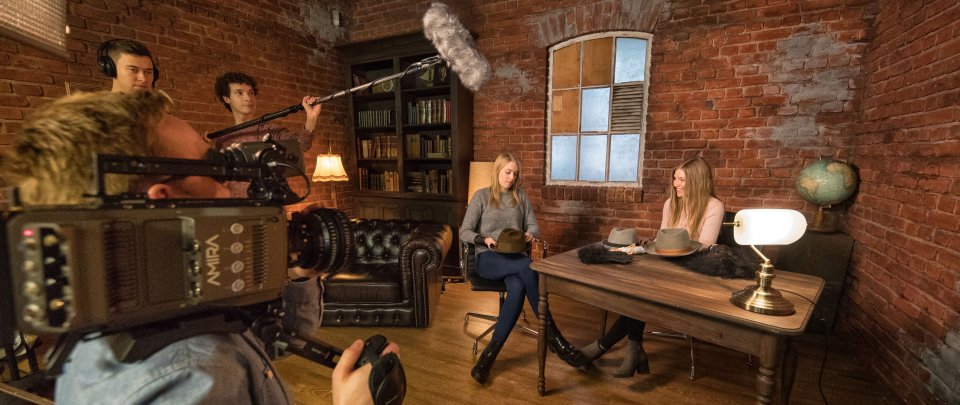 Programme title
Intermedia & Marketing
Starts in
winter semester
Restricted admission
no specific restrictions
You're a student with us or want to know more?
Ads that go viral, not wrong. Campaigns that you'll remember years later. If your buzzing with ideas and are eager to create advertising that is not just the background in the break but that glues people to the screen, this is your programme.
What is it about?
Good marketing will make you laugh, move you, surprise and entertain you. Whatever you do to make it memorable, make people remember it – ideally that's not just you and us, but everyone. When you have the perfect combination of design, storyline, language, music and everything else that makes up your campaign, people won't just remember what you are advertising, they will want it. You have learned and understood all that during your bachelor's already. Now you want more – both theory and practice.
If you want to create films that don't get clicked away after the first and forced five seconds, you will need more than just a good idea. You need to know your audience. When in Rome, do as the Romans do, they say. When you advertise in Rome – or anywhere else in the world – advertise as is best for your international target audience. In this degree programme we will explore how to convincingly present your ideas and the ideas and products of your future clients.
What will I learn? – Course content and structure
You will need three semesters to complete this master's degree programme. Three semesters in which you will have plenty of space and opportunities to explore economic, design and societal aspects of visual communication – both in theory and practice.
In the first two semesters of your studies you will get to know different narrative approaches and approaches to visual and cinematic communication. We will also show you how to turn your projects into strategies and present them. Of course marketing aspects are another important part of your curriculum – how can you make campaigns work for an international audience? Which intercultural traps should you avoid?
So, you bring your own creativity and we'll show you what you can do with it. Experiment? Connect different media and contents and come up with more than just another ad or image film, come up with a clever and creative concept that works as a whole.
You can prove that you have learned to do this in your master's thesis in the third semester of your studies. Our master's forum will give you the chance to reflect on your own work and that of other master's candidates.
After you have successfully completed your thesis, we'll toast your accomplishments and admit you to the degree of Master of Arts (M.A.).
Degree programme leaflets
Curriculum
What can I do with it? – Career prospects
Your master's degree gives you the choice: Pursue a doctorate or start your career and help companies,. organisations and public authorities to see and be seen.
What you have learned and applied in the course of your studies, has equipped you with the tools you need to work on management level in modern marketing, in the film and multimedia industry and in communication design for example. Agencies, publishing houses, design offices, cultural institutions and the design departments in industry and media will benefit from your skills, your creativity and your communication skills.
You can go on to work in art or creative direction, in communication design or market research. Manage marketing departments or your own agency. Of course you can also go down a more academic route and do further research.
How do I apply?
If what you have rad so far matches your strengths, interests and your idea of what you would like to study and do – in short, if this sounds like the perfect degree programme for you, you should apply.
Applying for a master's degree programme is not much different from what you did when you applied for your bachelor's degree programme. Depending on whether you have acquired your university entrance qualification in Germany or abroad, the application process varies. If you went to school outside Germany, please apply via uni-assist. If your university entrance qualification was issued by a German school, please apply via our Online Service Tool.
Please note that your application documents for this master's degree programme need to include a few things in addition to what is required for most other degree programmes:
a letter of motivation about 1.5 to 2 pages long,
a comprehensive idea concept for your master's thesis,
an abstract of this idea concept,
a portfolio including 4 to 10 of your works: please hand in animations, interactive projects and films on a DVD, all other works can be handed in in DIN A4 format (we do not accept 3 dimensional products),
a list of your awards, projects and publications as well as arts and design classes or courses you have completed.