Want to study with us?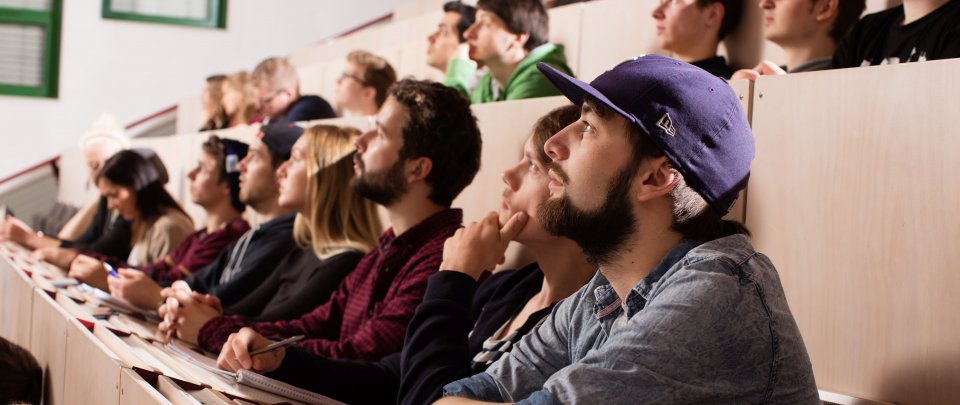 Programme title
Business Administration
Starts in
summer semester
Restricted admission
yes, minimum grade or similar
You're a student with us or want to know more?
What is it that makes one company a success rather than another? Why do people buy a certain product and not the almost identical one? What makes people enjoy going to the office in the morning? You will learn the answers to all these questions here – from teaching staff who know about business from first-hand experience and not just from books. So that the more successful business of the future will be yours.
What is it about?
For a business to be successful, a number of individual elements have to run smoothly – like clockwork. You have to hire the right people and they should enjoy working for you. Your products and services have to be marketed the right way to the right audiences. The profit you make has to be accounted for, books have to be kept according to the rules and smart investments have to be made. All the while supply chains have to run in the background and keep everything going. And finally, you need people who keep track of all these processes, understand and manage them.
Your studies in business administration will give you an insight into all these areas. You decide what field you want to specialise in by choosing the major that interests you most. There are seven majors to choose from.
What will I learn? – Course content and structure
In the first three semesters of your studies you will build the solid foundation for your future career. Mathematics and statistics will be part of your studies as well as investment and finance, the digital economy and marketing. We will also bring your academic writing and research skills up to speed and help you to get your English language skills to the level you'll need for your career. That's what we created the "English and Methods" block for.
In the fourth and fifth semester you will then choose one of the following majors:
We designed the curriculum so that you will further extend your basic knowledge and gain more in-depth insights, whichever major you choose.
In addition to your major modules you can choose from a broad range of supplementary modules. These vary from semester to semester. Whether you want to learn more about Health Care Management, international tax law, capital market-based accounting, organisational development or Exploring Foreign Markets – create the timetable that matches your interests and career plans.
We don't think you can learn everything you need to know from books only. We believe in letting our students apply their knowledge. Which is why using the major software applications is part of the curriculum as well as discussing subject-specific topics in English, producing and reading statistics.
You will be working in small groups throughout your studies and our members of teaching staff will always be there to support you and share their first-hand experience and expertise with you. All of our professors have a track record of having worked in industry for several years. They've worked for companies such as BMW, PricewaterhouseCoopers, and Siemens as well as the Stock Exchange in Frankfurt for example – we could go on with this list for quite some time. This real-life experience is reflected in class but our students also benefit from our professors' networks in field trips or guest lectures.
In the sixth and last semester of your studies, you will get a taste of the real world: You will complete a three-month internship in a company of your choice and apply what you have learned in your studies so far. Maybe your internship will even provide you with a topic for your bachelor's thesis which you will write in the following two months. Once you have completed this, you will finish your studies as a Bachelor of Arts (B.A.).
Degree programme leaflets
Curriculum
What can I do with it? – Career prospects
Your bachelor's degree is a great qualification on the job market. It also gives you the choice of studying on for a master's degree.
We regularly ask our graduates what they did with their degree: About one third enrolled in a master's degree programme. If you want to do that, too, have a look at our Business Management and eHealth programmes on graduate level.
If you've had enough of studying for now, your career prospects are bright: 45% of the alumni we asked had signed a job contract within one month after their graduation.
And their job titles are as varied as the curriculum. They range from senior admin staff to management level. From SME to DAX-listed companies. This variety is also reflected in the range of industries our graduates work in: From trade to health care and media, from the banking sector to machine and car manufacturers, from transport to IT and consulting. Their job descriptions include tasks such as carrying out analyses, writing reports, developing and presenting. They calculate, coordinate and conceptualise. They keep books and check the balances. They acquire new customers and make sure they become long-time customers. They develop strategies and manage projects.
How do I apply?
If what you have rad so far matches your strengths, interests and your idea of what you would like to study and do - in short, if this sounds like the perfect degree programme for you, you should apply.
Depending on whether you have acquired your university entrance qualification in Germany or abroad, the application process varies. If you went to school outside Germany, please apply via uni-assist. If your university entrance qualification was issued by a German school, please apply via our Online Service Tool.